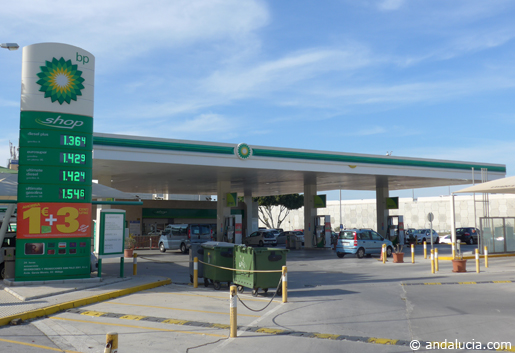 Petrol station at Malaga Airport.
Petrol Station at Málaga Airport
When returning rental cars to Málaga Airport it's good to know that there is a petrol station conveniently located at the entrance to the airport.
As you approach the airport from the N-340 you will pass the San Miguel Brewery on your left and car hire office on your right. At the roundabout continue straight on and just beyond the roundabout after the overbridge there is a BP Petrol station on your right hand side. 
If arriving at the airport from the A-7 motorway, the elevated access road with pass at the back of the car hire offices. At the first roundabout you need to turn left and descent the ramp, filter right at the bottom and the petrol station is just on the right hand side.  
You can exit the petrol station and drive right into the car park to drop off your hire car at the terminal. If you are returning the car to one of the offsite car hire offices you will need to follow car hire returns signs, do not enter the car park but continue straight on to the roundabout towards the off site offices.  
opening hours
This petrol station is open 24hrs.
Petrol and Diesel prices
About Petrol in Spain and Petrol prices in Andalucia and Spain. More>
Destinations