All about Luggage at Málaga Airport
This brief guide to preparing, checking in, managing and collecting your luggage at Málaga Airport will help you plan ahead and avoid possible problems.
Packing Luggage for Check-in
Check with your airline to find out how many pieces of luggage you can check in - at no extra cost - and what the size and weight restrictions are for each piece of luggage. Your airline will also inform you regarding what you can and cannot pack.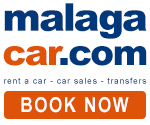 Professional car hire services at Malaga airport. All-inclusive prices, book your car online and pay on arrival - without cancellation fees!
Packing Hand Luggage/Carry-Ons
If you plan to carry on any liquids, gels, creams or other items with a similar consistency, be sure each item is less than 100ml and that all such items can fit together in a single 20cm x 20 cm plastic zipper bag. It's also important that the bag can easily zip closed with all the items inside. Only one such bag is allowed per passenger – and this includes children.
For more information about travelling with medications, baby foods or food required for special medically controlled diets, speak with a representative of your airline.
Check-in for Luggage
Your airline will specify how far in advance you need to arrive in order to check in comfortably. However, it never hurts to leave a bit early just in case there are traffic problems on the way to the airport. Should you arrive before check in opens, there are cafés and restaurants in the departure area near the ticket counters in both Terminal 2 (T2) and Terminal 3 (T3) with more options in the new T3 departures area.
Non-EU Baggage Claim
This is an important message for travelers arriving from non-EU Destinations:
If you are travelling from a non-EU country and Málaga is your first point of entry into the EU, your luggage will not be delivered to the conveyor belt as advertised for your flight. Instead, because your luggage tags will not be marked with green bands, handlers will know to send directly to the customs pick up area. This is a glassed in room to the left of the main luggage conveyor belts in Terminal 3 (T3).
The customs luggage pick up room is staffed with Spanish Civil Guards (Guardia Civil agents) who supervise passenger luggage collection and occasionally select luggage for x-ray or manual inspection.
Lost Luggage
Like any busy airport, Málaga Airport does its best to handle the daily onslaught of luggage efficiently and effectively. In case something should go wrong and luggage does not arrive on the conveyor belt for your flight, go to the desk in the baggage reclaim hall for the company in charge of handling for your airline.  Make a lost luggage claim.  With your baggage tag referenece number the staff will be usually be able to locate your luggage and advise you on which flight it is due to arrive at Malaga airport. Discuss with the staff your options which could be returning to Malaga airport to collect your luggage or giving your address so it can be delivered. A van leaves Malaga airport at 09.00 each morning to deliver delayed luggage all along the Costa del Sol.   
The baggage handler offices also have a counter facing the arrivals hall. If you have already left the baggage hall or the airport when you realise a bag is missing or damaged you must use this counter in the arrivals hall. the security will not let you back into the baggage hall.
The companies in charge of handling have help desks at luggage arrival points in both Terminal 2 (T2) and Terminal 3 (T3). These companies are Iberia, Flightcare, Clever, Newco-Spanair, Air Europa and Easy Jet.
Damaged Luggage
If your luggage is damaged, you need to file a written complaint before leaving the airport. To make your complaint, first visit the airport information counter to find out where you need to go – either the airline's office or the luggage handler's headquarters, depending on who you're flying with. Next, be sure the airline or the handler gives you a form titled in Spanish "Parte de Irregularidad de Equipaje (P.I.R.)". Fill it out, turn it in and keep a copy.
Left Luggage (Consignment)
There is a LockMate left luggage office in the public side of the arrivals area in Terminal 3. it is open from 09:00 to 21:00 hrs.
Cost per item up to suitcase size is as follows:
0 - 2 hours 4.20€
2 - 24 hours 7€
+24 hours 7€
+ 7 day 5€ per day
+ 14 days 3€ per day

Larger items such as golf bags are about 40% more expensive. 
Valuable Luggage
If you are travelling with items of special value, you can pay to insure your luggage at the check in desk when leaving your luggage. However, you must arrive early enough to carry out the process because personnel will have to inspect the items.  
Lost Property
If you are unfortunate to have lost property at Malaga Airport, there is a lost property office in Terminal 3. More >
Hire golf clubs at Malaga Airport
Destinations