Malaga Airport Terminals
Málaga Airport has three main terminals plus a General Aviation Terminal for private planes - located south of the airport - and the Cargo Terminal to the north.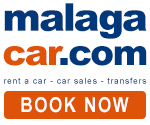 Professional car hire services at Malaga airport. All-inclusive prices, book your car online and pay on arrival - without cancellation fees!
Terminal 1
Terminal 1 (T1) is currently a back-up terminal. This was the main terminal in the 60´s and 70's, during the tourist boom, but it took a back seat with the arrival of Terminal 2 and was quietly retired with the opening of Terminal 3. The terminal is prepared to receive passengers should the need arise.
Terminal 2
Terminal 2 (T2) is officially known as Pablo Ruiz Picasso Terminal. It was designed by the prominent Spanish architect, Ricardo Bofill, and inaugurated in 1991. Parking facilities were added in 1995 and finally the new control tower was opened in 2002. This terminal houses the B and C boarding gates - however, these gates are considered part of the new T3 terminal because they are connected. 
Terminal 3
Terminal 3 (T3) is the newest addition to Málaga International Airport. Designed by American architect (longtime resident in Spain) Bruce S. Fairbanks, the facility is an impressive tribute to the evolution of tourism on the Costa del Sol.
Terminal 3 was inaugurates on March 15, 2010 by their Royal Highnesses, King Juan Carlos and Queen Sofia of Spain. The magnificent structure covers 250,000 square meters of land and flashes a gleaming façade to arriving and departing passengers.
In the departure zone, T3 has 86 check-in counters, 15 self-check-in machines and nine security stations. In the arrival area, there are 11 luggage carousels - nine for Schengen zone arrivals and two for non-Schengen-zone arrivals, plus one for special baggage. The rest of the floors of the terminal house the new SATE (Automatic Luggage Treatment System) baggage handling system that can process 7,500 pieces of luggage per hour.
Terminal 3 also includes the D Gates which are used for both Schengen and Non-Schengen traffic.
With Terminal 3, Málaga Airport has a "intermodal transport station" - a hub area that feachers the train station, bus stops, coach parking station and taxi rank.
Málaga's original cargo terminal was demolished to make way for the new Terminal 3. The new cargo terminal was designed by Spanish architect Alejandro Martín of Aertec Airport Solutions. While this terminal is mainly dedicated to handling commercial cargo, some professionals and even general public do go directly to the Cargo Terminal to arrange shipments or send parcels.
Destinations