Security Services and Controls at MÁlaga Airport
You can expect the same tight security controls at Málaga Airport that you would find at any airport around the world. Following is simply a list of reminders in order to prepare yourself and your hand luggage to pass through security controls.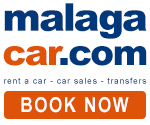 Professional car hire services at Malaga airport. All-inclusive prices, book your car online and pay on arrival - without cancellation fees!
Have your boarding pass ready to be scanned.
You should provide your own plastic bag for liquids. The maximum size is 1 liter (20x20 cm.) If you don't have a bag, you can buy one at the airport chemist.
Take off your belt and other metal accessories and be prepared to remove shoes, if required by security staff.
Computers, tablets and other electronic devices must be removed from hand luggage and passed through scanners in a separate tray.
If you have any prosthetics or a pacemaker, let the security staff know your situation.
You can save yourself a lot of hassle by checking your hand luggage carefully before you leave home to reduce liquids, sprays, creams and gels to a bare minimum (must fit in that little plastic bag). Also be sure you don't have any kind of sharp objects in your possession.
Remember, security staff is working to ensure passenger safety. While security controls can be frustrating at times, everyone needs to cooperate in order to make procedures as easy and quick as possible.
AENA the Malaga Airport operators target 10 minutes as the service level for passing security. This service level is generally maintained with additional channels provided at peak periods and when necessary.
There is a fast-track channel, and tickets for this can be purchased online or at airport for 5.80€ per person. A few airlines include this within certain flight tickets. If so your boarding cared will be marked FAST TRACK. The fast track not open to any Business or Club passenger or passengers with Frequent Flyer Perks such as Oneworld Emerald or Sapphire tiers as is common practice in many other airports.
Destinations