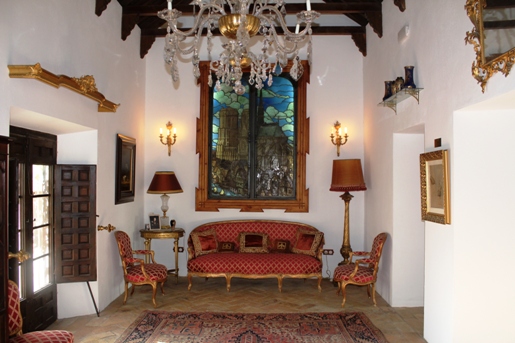 Glass and Crystal Museum

Glass and Crystal Museum opened in 2009, has around 700 pieces of glass, dating from Phoenician times to the 20the century. The museum is housed in an 18th-century casa palacio in the centre of Malaga, with spacious patios and gardens, is furnished like a private home, with antique sofas, rugs, mirrors and paintings, and cabinets for the glass.

Owner Gonzalo Fernandez-Prieto has, in effect, created a decorative arts museum with an intimate atmosphere. 
The collection is divided into various historical eras, across two floors, with period furniture from each era to complement the glass. On the ground floor, you can see English Pre-Raphaelite stained glass windows. The first floor has several sections, starting with the Ancient Civilisations - Egyptian, Phoenician, GrecoRoman, Byzantine and Islamic - look out for the pretty, brightly-coloured Phoenician pieces, dating from the 6th century BC.
Then we jump forward by about 1500 years: from the 16th and 17th centuries, you can see Catalan, Venetian, Dutch and Bohemian lead glass; the 18th century has glass made in La Granja; the19th century, English cameo glass by Thomas Webb; and the 20th century, bold Lalique and Whitefriars.
The museum holds occasional theatrical events and exhibitions.
Opening hours
11am-7pm, Tuesday to Sunday.
Closed Mondays and during August.
All visits are by guided tour.    
Entrance fees      
Normal: 6 euro
Reduced (OAPs, children under 12): 4 euro
Group Rate (10+): 3 euros (Please call in advance for group visits)
Malaga Glass and Crystal Museum Admission Ticket
Malaga Glass and Crystal Museum Admission Ticket
Enter this hidden gem of Malaga and appreciate the beauty of glass craft in a historical home. The collection of the Glass and Crystal Museum of Malaga is located inside a big house from the 18th century, carefully restored, where you will be able to see a timeline of human history through glass objects.

Address:
Plazuela Santísimo Cristo de la Sangre 2 (previously called Calle Gaona), opposite San Felipe Neri church, Malaga
Tel 952 22 02 71
www.museovidriomalaga.com
Destinations