Malaga Dolls House Museum.
MALAGA DOLLS HOUSE MUSEUM - CLOSED
The Malaga Dolls' House Museum (Museo Casa de Muñecas) was the first of its kind in Spain. It opened in 2004 and closed in 2014 and was located in a restored 18th century Baroque building (Calle Alamos 32) next to the Plaza de la Merced.
The private museum housed a private collection belonging to Victoria Harras comprising of over fifty hand-made dolls' houses, dating from 1850 to 1970, including an outstanding 19th century Andalucian collection and a model freight train. A star exhibit is the model of the Palacio de los Carranza in Cadiz with a miniature porcelain Limoje dinner service. Another is a typical nineteenth century Malaga house or Villa Dolores a Cordoba Palace or an English Tudor house.
Originally doll's houses were a way for a carpenter to demonstrate his catalogue and for hose holder to show off their houses. Later they became children's toys. 
Reproductions of the museum's dolls' houses in various materials and sizes were on sale in the shop on the ground floor.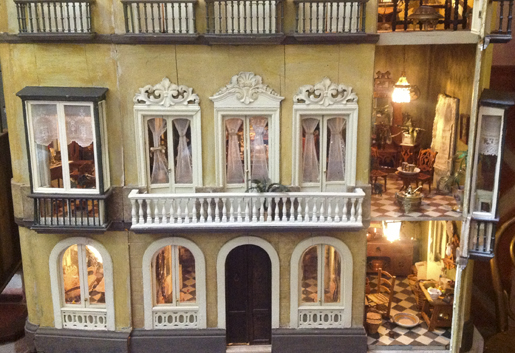 Hand made dolls' house at the museum in Malaga.
Unfortunately the Dolls House Museum Malaga closed in 2014 however the private collection belonging to Voria Harras is on display from July until 14th December 2018 at the Exhibition Centre in Benalmadena (Avenida Antonio Machado, 33) Entrance Free.
Destinations