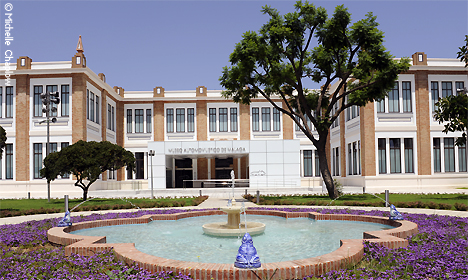 Museo Automovilistico de Málaga
One of several new museums in Malaga - it opened in 2010 - this museum houses the private collection of Portuguese car fanatic Joao Magalhaes. The collection is worth around 25 million euros, and is one of the most important vintage car collections in the world.
THE SPACE AND THE CARS
Rolls-Royce customised with Swarovski crystals. Bling!
This museum is housed in one of Malaga´s most architecturally stunning buildings - the old tobacco factory (Fabrica de Tabacos). Constructed in 1927, it has been carefully transformed to house a collection of more than 80 vintage and modern cars, alongside fashionable travel memorabilia from the 20s, 30s 40s and 50s to keep non-car fans happy.
The space measures 6000m2, with high ceilings and long thin windows encouraging flirtatious shaft-like rays of sunlight to dance on the perfectly polished bonnets.
The first car in the exhibition is so old it looks more like a horse-drawn carriage, without the horse, but with a little motor instead. From here we are led through 10 areas dedicated to various eras and themes, such as Belle Epoque, Art Deco 30s, Dolce Vita 50s and English Tradition, plus the more contemporary Alternative Energies, including a solar-powered model, and Tuning.
As well as cars with flames painted along the sides and super-powerful sound systems, Tuning (or pimping, as it's known in the US) features a genuine "jetset car": a black Rolls-Royce customised with Swarovski crystals. Bling! The museum also hosts fine examples of Bugatti, Auburn, Bentley, Jaguar, Ferrari and Mercedes - you can admire a host of collectibles from a bygone age.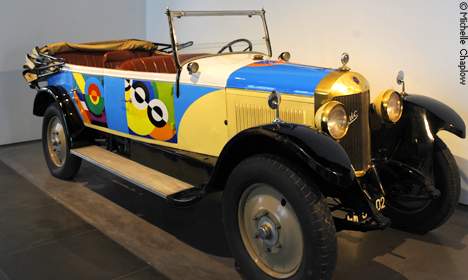 This museum is very much about the car as a work of art, and includes models customised by famous painters. Sonia Delaunay, a French-Ukrainian artist and the first woman to have her work exhibited at the Louvre during her own lifetime, was a leader in the art of customising. Sonia painted cars in bold, colourful designs inspired by cubism, providing customised models for BMW, Renault and Bugatti. You can see a 1920 4cil 12cv-hp Unic in Sonia Delaunay style.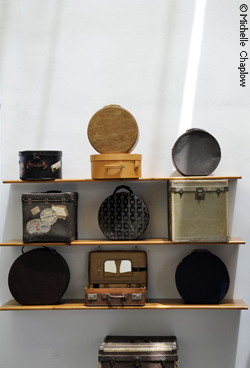 Love those hat boxes
GOT A HEAD? GET A HAT!
But his museum is more than just cars and engines; cleverly, it also caters for those less fascinated by four wheeled machines. Most female visitors will be relieved to hear you can drool over a collection of 300 vintage hats. From Balenciaga to Schiaparelli features headpieces dating from hat heyday, the 1920s to 1950s, from all the great fashion houses: Chanel, Dior, Lanvin, Balmain - there's even a replica of Dali´s shoe hat. These are complemented by period travel-related pieces, such as old-fashioned leather suitcases, like your grandparents used, and huge antique trunks.
TAKE A STAR TURN
The overall effect of this museum is to make driving sexy and glamorous, making you want to drive out in a Rolls, wearing a vintage hat and sunglasses, with a scarf fluttering along behind you in the wind. And indeed you can: various cars are available to hire. You can ride in a Pink Cadillac complete with chauffeur, a gold Bentley with leopard-print upholstery, or the limo that drove Grace Kelly to Monaco's royal palace on her wedding day; prices start at around 500 euro, including driver. You're guaranteed to turn heads - even in Marbella - if you turn up in one of these beauties.
Entrance
9.50€ General public
7€ Seniors over 65 years old
5€ people with disabilities and care givers, ICOM card, unemployed, teachers, Estudents European Youth Card, groups (+15 people) and large families.
Free admission: Visual impaired, guides, press, receptionists and children from 0 to 8 years old
Malaga Automobile and Fashion Museum Entrance Ticket
Malaga Automobile and Fashion Museum Entrance Ticket
A Unique Museum in the World! The Automobile and Fashion Museum is located in an emblematic building from the City of Málaga, popularly known as "La Tabacalera". The Museum exposes an extraordinary private collection of 6,000 square meters, which describes the artistic and historical evolution since the end of the nineteenth century through 13 thematic rooms. A space that occupies a place in the Top Ten of Museums of Spain, and is the Nº1 in Tripadvisor ranking of "Things to do in Malaga".

Opening Hours
Mondays to Sundays from 10am to 7pm.
December 24th and 31th from 10am to 2pm.
Closed: December 25th, January 1st. The ticket office closes half an hour before museum closing time.
Location
Avenida Sor Teresa Prat, 15, 29003 Malaga.
Contact
Tel: 951 137 001
www.museoautomovilmalaga.com
Teansport
Note: The museum is on the airport side of the city centre and offers free parking during your visit.
Urban Bus number 16 from Alhameda
Destinations