The imposing facade of Granada Cathedral.
Granada Cathedral
The Cathedral is located in the centre of the Muslim area and dates back to 1523. It has a nave and four aisles, a crossing and circular apse. Alonso Cano built the main façade with sculptures by Duque Cornejo, Risueño and Verdiguier while the only tower of the two planned ended up half finished. On the northern side, there is La Puerta del Perdón, a magnificent work of Diego de Siloé who also built La Puerta de San Jerónimo. The chancel is not only stunning, but includes skillful architectural solutions provided by Siloé. Its circular plan and great height contain semi-circular arches upon which a double series of balconies rest.
The glass windows of the upper part add light and colour to the whole. Medrano and Mena sculpted the statues of the Catholic Monarchs and Alonso Cano the busts of Adam and Eve. The side chapels contain marvellous works of art. In the sacristy, there is a figure of Christ by Martinez Montañes, an Annunciation and a valued image of the Virgin Mary by Alonso Cano, together with other valuable objects of the Cathedral Museum and Treasure.
The Church of El Sagrario, the Episcopal Palace and the Episcopal Curia flank the Catherdral square.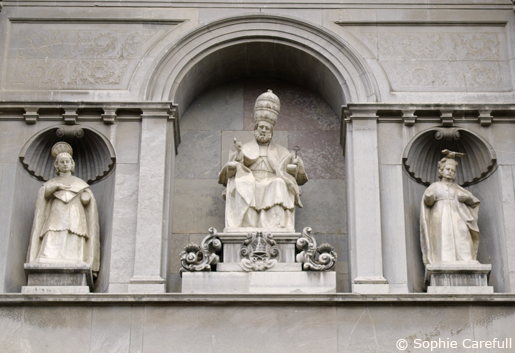 The Church of El Sagrario.
Destinations