Travel by bus in Granada.
Flights
Granada Airport, situated in the area known as "Vega del Genil" or plains of the River Genil 16km west of the city. It mainly handles national flights to Madrid and Barcelona but now also a daily international flight to London Stanstead.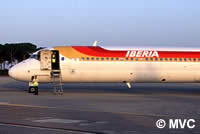 Iberia flights from Granada
To reach the city from the airport by taxi is a 12km trip, it should cost around 25 euros, however, do be aware that on public and national holidays it may be more. Buses from the airport to the city are only 3 euros and leave after the arrival of each flight, if a flight is delayed the bus will wait. Be aware though that once you get to the bus station you may need a taxi to reach your final destination as the bus station is a little out of the city centre. More>
Car Hire
Many People prefer to have flexibility when travelling abroad, and for this reason they often choose to hire a car. In Granada the main car hire collection points are the airport and the train station, although there are car hire offices scatted around the city.
If you choose to hire a car from Granada Airport, we reccomend that you pre book as prices vary but, it isn´t always necessary. You will find the car hire desk as you depart from the customs area. Cars are collected from outside the airport from designated car hire parking areas. When departing we reccomend that you refuel the car before dropping off the vehicle as failure to do so can result in added fuel charges. The nearest fuel station to the airport is on the Carretera Aeropuerto just off the A92 at junction 230.
Trains
The RENFE train station in Granada is situated at the meeting of Calle de Halcon and Calle Doctor Jaime Garcia Royo. Inside the train station there is a cafeteria and car hire offices. Outside of the station there is a taxi rank and a bus stop. Long distance services from this station are provided by Altaria, Arco and Tren Hotel. The station also has Media Distancia trains that tracel across Andalucia, and Cercania trains which serve Granadas localities.
Buses
Granada's bus station is at Avenida de Juan Pablo II, 3 km north west of the centre. All services operate from here except for a few to nearby destinations such as Fuente Vaqueros and Viznar. The Estacion de Esqui Sierra Nevada has seasonal buses, information on these can be found here. Consigna lockers are available and there's a large cafeteria. For more Granada bus timetables click here.
For more information about Granada Bus Station click here.
Alsina Graells runs to:
Las Alpujarras, Cordoba eight times daily
Seville nine times daily
Seville nine times daily
Malaga fourteen times daily
Jaen, Baeza, Ubeda, Cazorla, Almeria, Almunecar and Nerja several times daily.
Bus timetable for coaches in Granada.