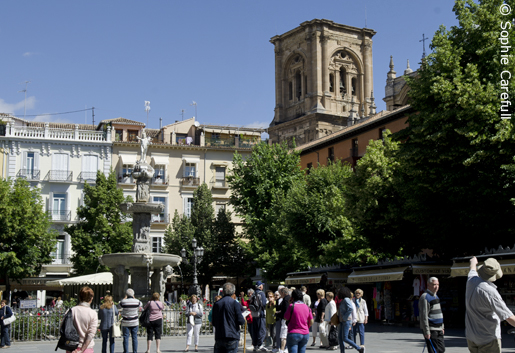 The bustling Bib-Rambla square, just around the corner from the cathedral.
No place is more emblematic of the ´´Christian´´ part of the city. Surrounded by 19th Century town houses, shaded by leafy lime trees - and in the midst of a large pedestrian zone - the Plaza Bibarrambla is the real heart of the city´s social life. Much of the square is in the warm months filled with sidewalk cafes, where you can enjoy hot chocolate and churros, and, on summer afternoons freshly made horchata de chufas, a refreshing milkshake made of a root called an ´´earth almond´´.
The market district further west sprawls over the lively Plaza de la Pescaderia (the fishmongers square) and the narrow streets which lead off to the right near the Cathedral.
Returning to the Plaza Bibarrambla, we see the cathedral´s single bell tower jutting up over the facades of the north side of the square, in the center of which is the tiny arched entrance to the old Moorish market, the Alcaiceria.
The centre of this charming plaza is decorated with a baroque fountain, consisting of a circle of grotesque figures spurting water - known as the gigantones - bearing on their hunched shoulders a rather undersized statue of Neptune.
This excerpt is taken from
:
Granada, City of My Dreams - an artistic and historical guide for the curious traveler by Lorenzo Bohme
This book is available to buy now on Amazon Kindle.