HIGH-SPEED LONG-DISTANCE TRAINS IN ANDALUCIA
It is no exaggeration to say that the AVE (Tren de Alta Velocidad Española), which started in 1992 in time for Sevilla's Expo, changed the face of Andalucía. Suddenly, you could get to Madrid from Sevilla in two hours 20 minutes, without either having to endure an airport, or sit on an ordinary train for between six and nine hours.
The AVE trains run on their own special dedicated lines, which were decided to be in accordance with the international standard gauge (distance between the inside of the two train rails) of four feet eight and a quarter inches (or 1,668 millimetres).
The first AVE line in Spain was the Madrid - Cordoba - Seville line which opening for the Sevilla Expo in April 1992.   
The service were frequent and reliable, and they famously offered a refund if your train was more than five minutes later than its scheduled arrival time. This refund offer has since been watered down in the era of low-cost tickets.
In tests on 23 April 1993, train set number 100-015 reached a speed of 356.8 km/h, a Spanish record for a non-modified train. This test allowed a theoretical increase of the top speed on the Madrid-Sevilla route from 270 km/h to 300 km/h in 1994,
In December 2007 the line from Málaga to Córdoba via Antequera was opened, making it possible to travel from Málaga on Costa del Sol to Madrid and later Barcelona. In June 2019 the Antequera to Granada line was opened.  
The trains run at target top speed of 300 km/h for operational reasons although the train units are certified to 330 km/h and 350 km/h.
OUIGO the French high-speed and low-cost train operator has been operating in Spain on the Madrid to Barcelona route in competition to RENFE since May 2021. OUIGO will launched the Madrid to Valencia route on 7 October 2022. It is expected to launch Madrid to Seville and Malaga route in late 2023.
There are three different "train sets" in operation. The most popular in Andalucía are the Class 102 introduced in 2005. The two power-car and 12 passenger-car train has earned the nickname "pato" (duck) based on the aerodynamic shape of the fronts areas.
The newer Class 103 were introduced in 2006. They are eight-car sets which incorporate driver and passenger-integrated cars at either end. They were ordered primarily for the Madrid-Barcelona route, but their distributed power system has proved efficient for inclines so they have also been allocated to the Madrid-Málaga route. They are certified to run at 350 km/h but for operative reasons also travel with a target top speed of 300 km/h.    
The older Class 100, built by Alstrom of France as a variation of their TGV technology, were the first to be introduced to Spain in 1992 for the Madrid - Sevilla route. The entire fleet was refurbished in 2007. The sets are made up of two power cars with two motorised bogies each and eight passenger cars with shared bogies. The units are also now used on the Avant fast-medium distance service, such as from Málaga to Sevilla.    

For more technical information on AVE Train Sets, click here.
TICKETS
It is advisable to buy tickets in advance. This can be done on the RENFE website or by an online agent whose website is fully operational in English. Andalucia.com have an affiliate partnership with Trainline for online RENFE tickets and reservations.  You can also order tickets by phone, at the station itself, or at a RENFE appointed high street travel agent for a small commission.
You can buy your ticket up to 60 days before your travel date. In the first two cases, you are either given a booking reference, which you then use to print out the tickets themselves from a machine at the main station, or you can print them out at home.

If you're travelling at the weekend or on a holiday or puente (long weekend), it is even more important to buy your ticket beforehand as the station may well be extremely busy, and seats may sell out.
General info
Three classes are available: Preferente, Turista Plus and Turista. The Club class no longer exists.
If you're travelling at a busy time on a crowded train and your journey is a long one or you want the space to work, it might be worth paying the extra for more space and comfort in the Preferente or Turista Plus class.  
Small snack meals and drinks are included with Preferente.
Weekdays there is a trolley cafe service to all seats; and at weekends on some trains snacks might only be obtained from the buffet car in the centre of the train sets.  
The Turista class has seating a "two plus two" format with a central corridor, and the Turista Plus and Preferente are in a "one plus two" format with an off-central corridor.  Most seats are coach style with a drop-down table, while some are facing with central table.  All seats are reserved at the time of the ticket purchase. In the 12-car class 102 sets there are two Preferente cars, one Turista Plus car, one buffet car and six Turista cars.
Since the Turista Plus are actually in a Preferente Car, the only difference is the service, which is basically a newspaper, a drink and a snack box whose value would be about €15 and the stations club lounge.
Free car parking (24-hour single tickets and 48-hour return tickets) at your departure point for Club and Preferente used to be the norm but this now also depends on the ticket unless you have signed up for a Tajeta Renfe + (Renfe Plus Card) 
In all classes you can have headphones for the audio/video service. There is a quiet coach on the train where mobile phone and electronic games are not allowed. Small pets under 10 kilograms may travel in a special carrying case. Bicycles must be demounted and be inside a case whose three dimensions don't sum to more than 180cm.
Luggage
Each passenger is allowed three suitcase or handbags whose TOTAL weight must not exceed 25 kg and the sum of their three dimension (width-height-depth) must not exceed 290 cm. Each passenger may carry one 'Equipaje Especial' which could be a golf club bag or a ski bag or a bicycle bag or a musical instrument bag, but if you do then you can only have one other piece of hand luggage whose dimensions should not exceed 55 x 35 x 25 cm (width-height-depth). These luggage restrictions are no more generous than an airplane. However unlike an airplane, in practice they don't tend to be enforced. If you are carrying a lot of luggage, be discrete and arrive at the station half an hour earlier. Be aware there are no luggage trolleys available on the platform for travellers arriving by train. You would need to find one at the outside entrance to the station and bring it back to the platform explaining to security. Trolleys are generally permitted on the platforms except Madrid Atocha that has an apparent ban and a deliberate shortage of trolleys at the station.
Small bags are placed on the overhead rack, and larger suitcases in the rack at the end of each carriage by the doors. It is wise to arrive at the station half an hour before departure as there can be queues and the platform barrier closes exactly 2 minutes before the scheduled departure time of the train. There is a security check, not at airport levels but all suitcases and handbags will need to be put through the X-ray scanner. At the terminus you are permitted to take the trolley onto the platform via the elevator but not at intermediate stations.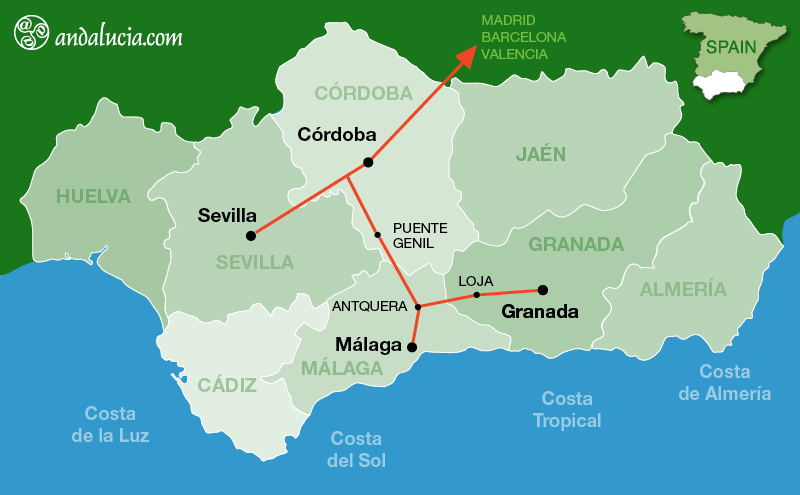 AVE - High Speed Train Routes
AVE Trains to Andalucia
AVE Trains from Andalucia
AVE Trains within Andalucia
The AVE also operates between some of the major cities in Andalucia, passing through stations including: Seville, Cordoba, Malaga, Granada and Antequera. For more information and details on specific routes, see our AVE trains within Andalucia page.
AVE Stations in Andalucia 
Timetables and Tickets
Below are a selection of the most popular AVE train routes in Andalucia, click on the buttons to take you through to one of our partner's sites, input your dates and check the timetables for your trains.

This page was about High speed AVE train services, also check Fast Long Distance, Regional, and Cercanias (local).