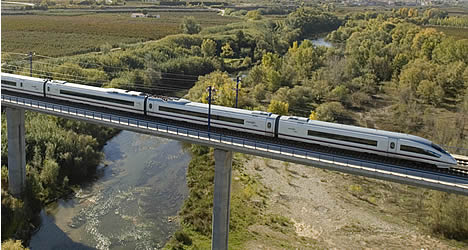 AVE Train
INTERNATIONAL TRAIN SERVICES TO ANDALUCIA
International trains from France terminate at either Barcelona or Madrid. The overnight sleeper trains from France were discontinued in December 2013 and replaced by high speed day trains. The routes are: 

From Madrid or Barcelona, you can catch the excellent AVE high-speed service to many cities in Andalucia (Seville, Cordoba, Malaga).
Other long distance fast trains are also available between Madrid and the provincial cities of Andalucia (Granada, Cadiz, Huelva, Almeria, Jaen, Granada). 
From there you can also travel on Renfe trains between some of the main provincial capitals on the  and medium-distance trains in Andalucia, and to some of the smaller villages as well, thanks to the numerous Cercanías (local train routes around Seville, Cadiz and Malaga).

Travel from Lisbon to Madrid and Madrid to Lisbon on the TrenHotel 'Lusitania' which departs both Lisbon and Madrid Chamartin  each night shortly after nine and arrives at about eight in the morning.