Please select the province from the map below to find out about parks and gardens that can be found in that area.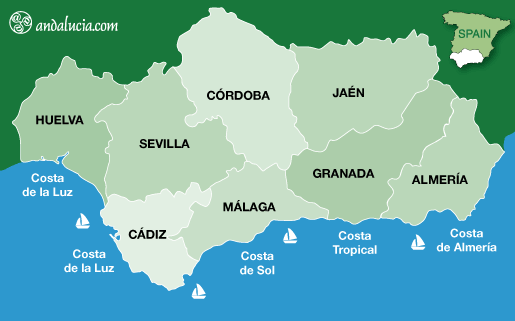 Visitors to Andalucia are always impressed by the many beautiful Mediterranean gardens to be seen.
If you enjoy gardens, consider making visits to the following a part of your travel agenda:
If time permits or you are interested in beautiful Mediterranean gardens then dig a little deeper.
The Mediterranean garden is a subject of great interest to more and more people - not only avid gardeners looking for ideas for their own gardens but also tourists who find being surrounded by the peace and tranquillity of the well maintained garden enjoyable in its own right.
The design of a Mediterranean garden in Andalucia depends, of course, on the local micro-climate. Thus one tends to find gardens with a multitude of exotic species in Mediterranean coastal areas, with the more sober Renaissance gardens and patios inland.
Typical Andalusian gardens include patios and garden-orchards of Hispano-Muslim tradition. Growing flowers and shady plants in flower pots on patios and windowsills is also very popular.