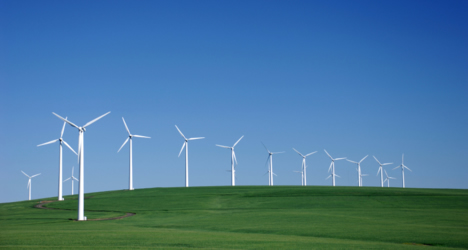 Wind Farms
For individuals, governments and companies committed to the idea of powering our technological age with clean, renewable energy, wind and solar power are a natural fit. Wind-powered technology has matured over the past two decades, driving down costs and driving up efficiency.
Spain has become a wind-energy powerhouse. With 9,000 megawatts of installed capacity, Spain ranked second in the world in 2005 in total installed capacity, behind Germany (16,000 megawatts) and ahead of the United States (6,500 megawatts).
Furthermore, Spanish companies, both turbine manufacturers and wind-farm operators, are among the leaders in the global wind-power market. Some examples are Gamesa Eólica (world's second largest turbine manufacturer), Iberdrola (world's largest wind-farm owner and operator) and Acciona Energía (world's largest wind-farm builder and developer).
What's more, from the dense industrial base already present in Spain, many companies have sprung up to develop technologies befitting the needs of the wind industry, in fields such as composites, steel, electrical components, and wind-data loggers.
With 30 percent annual growth in the sector, and a clear commitment from the Spanish government to encourage private investment, technological advances, and grid development, Spain is poised to continue this trend toward powering its economic and technological growth with the strong winds that sweep over the country's mountains and plains.
Wind power is an important energy source in Spain because the Spanish government has sanctioned a green energy approach to guarantee an increase in the country's wind generation capacity, with aspirations to produce 2.1GW of wind power by 2010. The approaches of energy deregulation that have been initiated in Spain recently are generating noteworthy developments within the energy sector. Multilateral cooperation for involvement in wind power production throughout Europe has created investment prospects for the industry and lower energy costs due to the efficiency of the renewable energy source and its domestic availability. "In terms of installed capacity by the end of the decade, attention should be drawn to the difference between the objectives set by the autonomous regions and those set by the central government".
A new Electricity Act established a "Special Regime" for renewables, including wind, with guaranteed access to the grid and a premium payment for generated power. A series of subsequent adaptations to the regulatory framework has fine-tuned the payment mechanism, linking it more closely to the wholesale electricity trading.
Wind energy in Spain has now entered a dynamic phase where the serious challenges that arise when wind energy becomes one of the main energy supply technologies need to be met. Current policy direction signals how an intermittent power source can be integrated into the electricity market in significant quantities. Predictability is the key to address intermittency at large penetration levels.
To move towards 15 percent of the country's power from wind energy will require a strategic grid framework. According to EWEA, this is currently being developed in partnership with the transmission operators, utilities, wind players and regional governments.