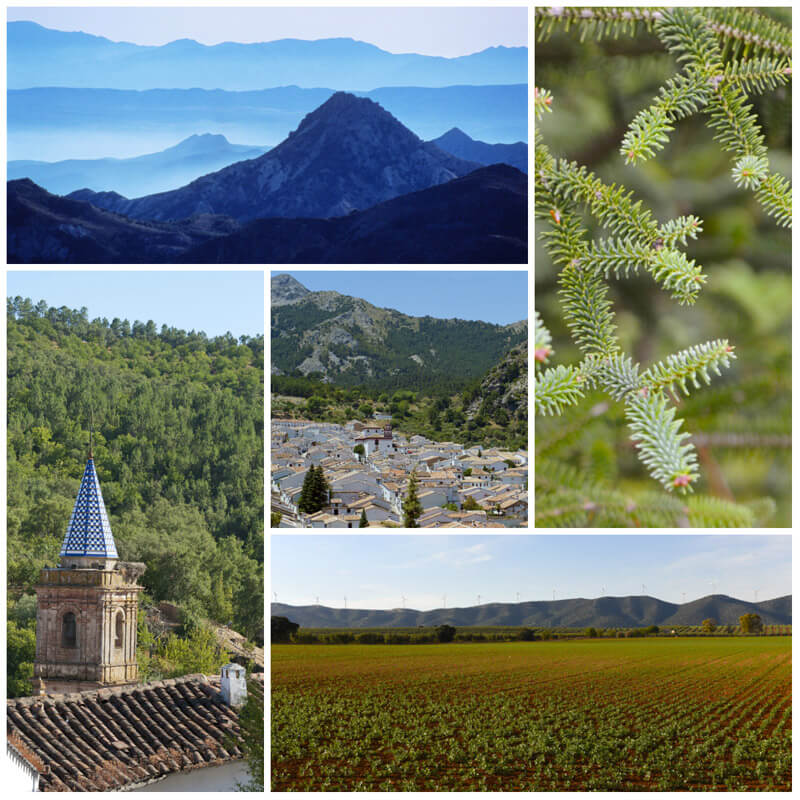 The Landscapes of Andalucia. Clockwise from top: Sierra Nevada mountain range. Pinsapo pines from Sierra Bermeja, Malaga. Fertile plains of Antequera. Valdearco, Sierra de Aracena. Central image: Grazalema.
THE MANY VARIED LANDSCAPES OF Andalucía
Andalucia has an amazingly wide variety of scenery - from Europe's second-highest mountain range, to the continent's only desert, tidal marshes recognised as a biosphere by UNESCO, ancient oak forests, and of course hundreds of km of stunning coastline, from smooth, flat arcs of golden sand to lofty, dramatic cliffs.
Whether you want to drive past it, walk or cycle through it, or stay inside it, you'll find a myriad of spectacular roads, cycle routes and hiking trails, as well as places to stay, from remote, simple mountain inns to stylish boutique hotels in picturesque villages, or luxury beachfront resorts.
Andalucia in spring: almond blossom and vibrant wildflowers
Almería province has Europe's only desert, with extensive areas of of arid, sandy terrain. More >
Most Andalusian forests, teeming with wildlife, are in the eastern part of the region. More >
The valley of the Guadalquivir is the region's most fertile area. More >
Fertile plains of Andalucia, where crops such as wheat, cotton and sunflowers are grown. More >
The familiar sight of olive groves on rolling hills in Cordoba and Jean provinces. More >
Huelva province has vast expanses of dehesa - pastureland dotted with oak trees. More >
One example of craggy mountain landscapes is the natural park of the Sierra de Grazalema. More >
The rugged coastlines of eastern Andalucia: Costa Tropical and Costa Almeria. More >
The long, expansive beaches of Andalucia, especially on the Costa de la Luz. More >
Extensive and ecologically important areas which attract thousands of migrating birds. More >
Tidal marshes where natural sea salt is collected. More >
Andalucia has Europe's second-highest mountain range, which is often snow-covered. More >
Malaga has acres of almond trees; their blossom in January and February is spectacular. More >
Search Hotels in Andalucia