The Nazarenes
Guide to Holy Week / Semana Santa in Andalucia
The "Nazarenos" are the members of the "cofradías" who participate in the processions. They are also known as the "penitentes" (penitent ones).
These are the people you see who are dressed in robes and capes, wearing cone shaped head gear that makes it impossible to know who is behind their disguises. It also reminds many foreigners of images of the Ku Klux Klan in the United States. However, these cone-shaped paraphernalia have no sinister significance and, in fact, their symbolic meaning is actually quite interesting.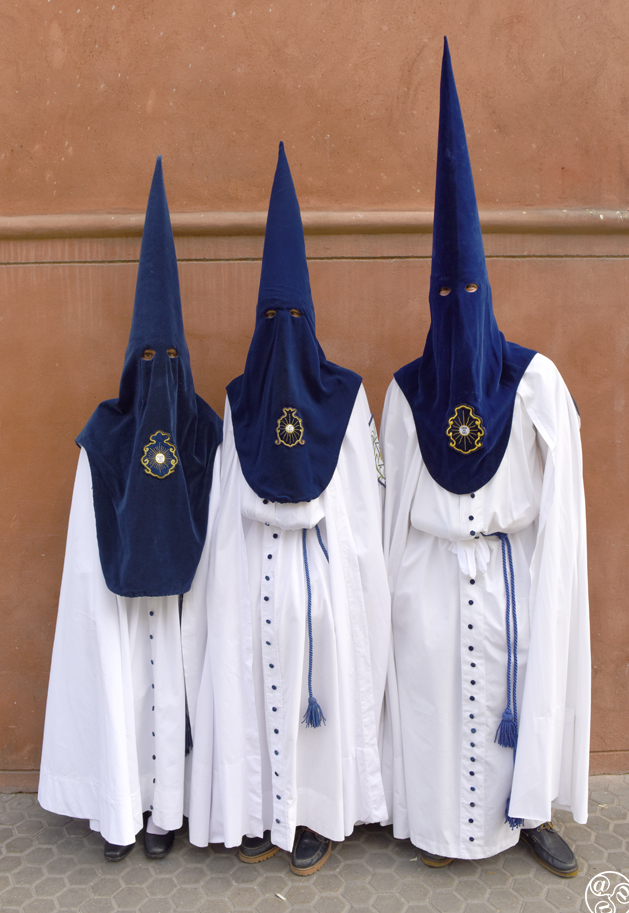 According to an article in Spanish at Wikipedia (there are some very passionate Spaniards involved in the Semana Santa section of the site), the cone is supposed to symbolise a sort of rising towards the heavens and therefore this part of the Nazarenes' dress is designed to bring their penitence closer to the heavens. It is also noted that in the same way, cone shaped shrubs, such as cypress trees, are used in Spanish cemeteries – to symbolically raise the dead towards the heavens.
There has been quite a debate over whether or not women can take on the traditional role of Nazarene, but it is becoming more and more common. Our Wikipedia source also indicates that women have probably been participating over the years without anyone knowing – as their identity is so disguised. Years ago, it seems there have always been whispers that this or that Nazarene is actually female, nowadays there are more and more women taking part in the semana santa processions, such as the town of Luque in Cordoba on Easter Saturday. In Ronda on Easter Sunday the paso of the Virgin Mary is the only one in Ronda carried by women. In Estepona one of the five floats in Good Friday's Veracruz prossesion is carried by women.
Semana Santa dates
Semand Santa dates for the next few years are in the info box on our Semana Santa home page
Guide to Holy Week / Semana Santa in Andalucia