Practical Tips for Semana Santa (HOLY WEEK) in andalucia
Be aware that streets, especially in large cities, can get extremely crowded during the afternoons and evenings in Semana Santa (mornings are for shopping), with many thousands of people packed into narrow alleys - not for the claustrophobic.
Take a street map (to find your way back to your hotel if streets are blocked off) if you are not familiar with Google maps on you phone, sunhat, water and snacks, and a lightweight folding chair for the less able-bodied, as you may be some time waiting for, and watching, the processions (most of the chairs you will see on stands are reserved for locals).
Get a guide which lists all the processions in the town or city where you're staying for that day (both daily and weekly ones are available, free with local press and from tourist information and shops), showing the routes and approximate timings. Most towns will have websites and press which offer information about timings and routes. 
If you want to watch a salida (when the procession comes out of the church), you need to get there about 2-3 hours in advance to secure a good spot.
Note that if it rains, or is threatening to (which isn't uncommon), processions may be delayed or even cancelled.
Look out for a Semana Santa app to find out where each part of any procession is at any given time, and also for last-minute changes to the schedule, such as cancellations or delays.
Bring plenty of large-capacity memory cards for your camera, as well as spare batteries, to photograph and video the proceedings - by night or day (dusk is the most magical hour), these scenes are extraordinarily photogenic and will bring you pleasure for years to come.
If you're lucky enough to know someone with a balcony that overlooks a procession route, or even better the official route (for example in Seville - down Calle Sierpes and Avenida de la Constitution to the cathedral's Puerta de San Miguel), or you can get an apartment or hotel room near the town's main church or cathedral, you're sorted. Great views, somewhere to rest, and on-hand refreshments.
Another option is a well-located restaurant in an open area with a roof terrace, like El Faro de Triana. Located next to Triana bridge, this offers a perfect vantage point with unimpeded views of a number of processions over the week.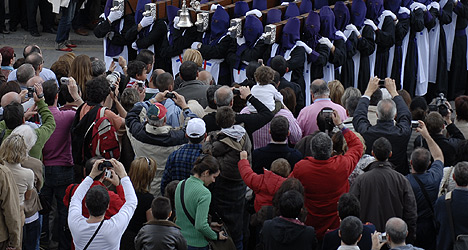 From the ground it can be difficult to capture the Semana Santa scene at times.
Wherever in Andalucia you decide to spend your Semana Santa, make sure you reserve your hotel in advance, as they get chock-a-block at this time of year, as well as hiking their prices (sometimes even charging double) to take advantage of the increased demand. But if you're going to come, you might as well fork out to stay in the centre, so you can get back easily for a siesta, as getting to further afield could be complicated. Also be aware that taxis are more expensive during Semana Santa, especially at night. Note that most monuments and museums are closed for part, or all, of Semana Santa - especially in the afternoon, as the processions start from 12 midday.
Watch a Semana Santa procession
Semana Santa dates
See info box on our Semana Santa home page