Actor (1960 - present)
A Star from the Southern Spanish Skies
This highly acclaimed actor has it all – the looks, the charm, the drive, the energy, and the creativity. Star of innumerable Hollywood movies, Banderas is one of Andalucia's most famous, and proudest, exports.
The actor appears to lack any sense of pretension, arrogance or aloofness; in other words, he is not your typical Hollywood celebrity. By all accounts Antonio Banderas is fun, funny, down-to-earth, honest and sincere, with a sense of ideals, moral values and a loyalty that commits him always to remember anyone, anywhere or anything that ever contributed, even in the slightest way, to his meteoric rise to fame.
Antonio Banderas was born on August 10, 1960 and named José Antonio Domínguez Banderas. Following Spanish tradition, his first surname, Dominguez, is the one by which he would normally be known (which comes from his father). He chose, however, to rise to fame on his second – and less common - maternal surname, Banderas.
Ana Banderas, the star's mother, was a schoolteacher from Casarabonela, and his father, José Domínguez, a Guardia Civil officer. The couple brought up their two boys as Catholics, and to this day the famous actor makes the pilgrimage back home every Semana Santa (Holy Week) to participate in the procession of his brotherhood, Lagrimas y Favores, in Málaga. In fact, he is even known to include this commitment in movie contracts, just to ensure that nothing will interfere with his uncompromising loyalty to the religious celebration.
Ana and José raised their future Hollywood phenomenon in the southern Spanish town of Fuengirola, near Marbella. According to legend, Antonio entertained every Spanish boy's dream of making it big in the world of football (soccer). Banderas was the star player in his school team, until his hopes were dashed by an ankle injury at the age of 14. He then turned his attention to the world of singing and acting, moving to Madrid when he was 19 and launching himself on the theatre circuit.
For the talented Antonio Banderas, the Madrid theatre scene served as a launch pad to work in the Spanish film industry. He made his movie debut in the second work by one of Spain's top film directors, Pedro Almodóvar – Labyrinth of Passions (1982), alongside Imanol Arias. The working relationship between the two continued as leading lights in La Movida, the popular cultural movement in 1970s and 80s Madrid.
Banderas also worked with other directors: in 1985, he starred in Requiem for a Spanish Peasant, where he played a Spanish farmer, La Corte de Faraón and Caso Cerrado, for which three films he won the Fotogramas Best Film Actor award of that year.
Banderas soon became a regular in Almodóvar's films, appearing in Matador (1986), Law of Desire (1987) and Women on the Verge of a Nervous Breakdown (1988), which was nominated for an Oscar in the best foreign film category.
In 1989, Banderas worked with Almodóvar again in the film Tie Me Up! Tie Me Down! which saw success in the U.S. and rocketed the aspiring actor beyond Spanish borders. He appeared in Madonna's infamous documentary In Bed with Madonna: Truth or Dare whilst the singer was staying in Madrid in 1990.
In January 1991, the actor moved to Los Angeles where he began his career in Hollywood. It was at this stage of his life where he was yet to learn English, and could not understand any of the directors requests during his auditions. He landed his first English-speaking role, in The Mambo Kings, directed by Arne Glimcher and based on the book by Pulitzer prize-winning author Oscar Hijuelos. During his audition for this role Banderas pretended to be shy as a guise for his lack of understanding of English, he memorised his lines and was successful in gaining the leading part of Nestor Castillo. This was followed in 1993 by Philadelphia, in which Banderas played the gay partner of Tom Hanks, who won the Oscar for Best Actor.
1993 saw Banderas star, along with British actor Jeremy Irons and Winona Ryder, in The House of Spirits, based on the novel by Isabel Allende. He was also in Of Love and Shadows, adapted from another Allende novel, which was shot in Argentina. This was followed by roles in similarly high-profile movies Interview with the Vampire (1994), Desperado (1995), and Evita (1996), alongside Madonna.
In 1995, the actor starred in the romantic comedy Two Much, which was to have a lasting impact on his personal life: one of his co-stars was Melanie Griffith, with whom he began a relationship despite the fact that both stars were already married – Griffith to Don Johnson, and Banderas to Spanish actress Ana Leza, who had helped him learn English for his role in The Mambo Kings.
His star continued to shine brightly in films such as The Mask of Zorro, Spy Kids and Once Upon a Time in Mexico; Banderas also gives voice to Shrek's Puss in Boots. In addition, Banderas has made award-winning stage performances on Broadway with prizes from the Outer Critics Circle and Drama Desk as well as a Tony Award nomination.
In 2007 Antonio Banderas planned to direct a film based on Gamel Woolsey's Civil War account Death's Other Kingdom (Málaga en llamas), starring his then-wife Griffith. The American author's book is an account of the first months of the Spanish Civil War, spent in Churriana with her husband, the British writer Gerald Brenan (South from Granada) Sadly, the project never went ahead, due to complications acquiring rights to the book. Instead, the actor went on to direct another book adaptation, El Camino de los Ingleses, also set in Malaga.
The actor worked with Almodóvar again in 2011 with The Skin I Live In, and in 2018 filmed the limited series, Genius:Picasso for National Geographic, receiving a Primetime Emmy and Screen Actors Guild Award, as well as a Golden Globe nomination. Like Banderas, the celebrated artist hails from Malaga.
In 2019, Banderas starred in the critically-acclaimed Pain and Glory, based on Almodóvar's life, including his physical ailments and drug addiction. The actor won several awards for the role, including Cannes Film Festival, the Hollywood Film Awards, the New York Film Critics Circle, the Goyas, and the European Film Awards. He also received his first Oscar nomination, and his fifth Golden Globe nomination, for this role.
In December 2021, Banderas paid tribute to his lifelong friend, Verónica Forqué, on Twitter. The two worked alongside each other on Pedro Almodavar's 1986 film 'Matador'.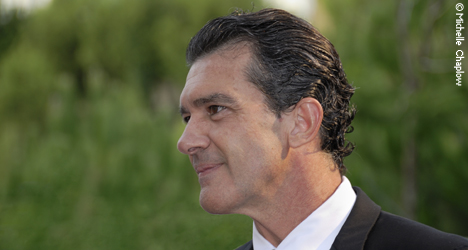 Banderas Theatre projects
Banderas always dreamed of opening a theatre in Malaga. The abandoned Cines Astoria y Victoria on the east side of Plaza de la Merced seemed a suitable venue. In 2016, together with architect José Segui, he submitted a plan to the PP-led town hall. Out of more than 70 submissions entered, theirs was chosen. However, due to vociferous objections from opposition parties Antonio withdrew his proposal the following year, and vowed to have no further dealings with public administration.
True to his word, in 2017, the actor announced the acquisition of the old Alameda Theatre for the private sector development of his theatre project, with an initial investment of 2 million euro. The theatre reopened on 15 November 2019 as Teatro del Soho, with a production of the all-Spanish musical A Chorus Line, directed and co-produced by Banderas. The Hollywood actor starred as the lead role Zach, where this show enjoyed a sold-out run until mid-March 2020, when the theatre was forced to close due to the COVID-19 pandemic. More about Malaga Theatres The production made its return to the stage in Madrid's theatre scene in the winter of 2021.
The actor co-presented the first-ever online Goya Awards, the 35th edition, from Teatro del Soho in March 2021.
Other activities
Banderas added another string to his bow in 2015, studying fashion design at the prestigious Central St Martins College of Art in London. He produced his first menswear collection in 2016. in collaboration with the Scandinavian clothing company Selected Homme, under the name of Antonio Banderas Design. The line consisted of men's wardrobe staples; from wool coats to dress shirts, signifying his affinity with fine tailoring. The collection features shades of blue inspired by the Mediterranean paying homage to his Iberian routes.
Antonio Banderas Perfume - Along with his fashion ventures, over the years Banderas has released more than 50 different fragrances for both men and women. His first perfume for men 'Diavolo' was launched in 1997, with notes of spice, orange, and leather. Some of his other best selling fragrances include Power of Seduction and King of Seduction.
Antonio Banderas presents the Starlite Gala in Marbella in August each year, the star-studded charity event that takes place within the Starlite Festival. He set up the Fundación Lagrimas y Favores in 2010, which contributes generously to several causes on the Costa del Sol, including disadvantaged families in the local Malaga parish, university education for the economically disadvantaged in Malaga, and the CUDECA Cancer Hospice. Since being founded in 2010, the gala has raised more than 2.5 million euros, has helped over 120,000 families, and has enrolled over 25,000 children into education.
In 2013 the actor received the Queen Sofia Spanish Institute Gold Medal for his philanthropic works.
Personal life
Banderas has been married twice: first to Spanish actress Ana Leza, from 1987 to 1996; and then to American actress Melanie Griffith from 1996 to 2014. Banderas helped Griffith to raise her daughter, and now Hollywood actress, Dakota Johnson. It is said that Banderas thinks very highly of Johnson after his involvement in her upbringing.
He starred with Melanie Griffith in Two Much (1996), and when the news of their romance broke back in Spain (she was married to Don Johnson at the time), the front covers were filled with telephoto shots of the couple jumping in the Californian Pacific surf.
By the time Banderas brought his new partner back to Malaga for Christmas 1995, his life had changed forever: 50 paparazzi camped outside his rented holiday villa in Marbella. The couple were forced to move to a more secluded property in Benahavís. The following visit was no better, but Antonio was busy practising his swordsmanship in the garden of a frontline property next to the Puente Romano hotel in Marbella, in preparation for the lead role in The Mask of Zorro. The actor moved to his brother's apartment in Benalmadena Marina, and an evening visit to the Teatro Cervantes turned in to a 30-car convoy. 
The couple were married in London in May 1996, after Banderas had divorced his Spanish wife Ana Leza, and Griffith from Don Johnson.
In September 1996, Melanie gave birth to their daughter Stella Carmen in the public Hospital Costa del Sol in Marbella. The administration proudly pointed out that she received no special treatment. The paparazzi had missed their hospital dash since the couple had reportedly climbed a ladder over a wall and away through a neighbour's back gate.
Banderas and Griffith were married for 18 years; they divorced in 2014, and remain on good terms.
The actor's current partner (since 2014) is financial consultant Nicole Kimpel from the Netherlands, and the actor has resided in Surrey in the UK since 2016.
One of his closest friends is Salma Hayek, a fellow co-star who has starred in more than five films with Banderas. The pair met on the set of Desperado, a 1995 action-packed movie about a weapon bearing musician, set in Mexico.
The death of Antonio Banderas's father in 2008 was a harsh blow for the actor. Close family friends reported that Antonio moved his father into his luxurious Marbella home to be cared for during the last weeks of his life, with the actor being very hands-on in looking after him. He reportedly postponed numerous projects in order to spend those last precious moments with his family. His mother passed away in 2017.
In 2017 Banderas suffered a heart attack, which he has described as a "turning point, psychologically" in his life, making him see his priorities, such as his family. The actor has said that Almodóvar encouraged him to draw on the terrifying near-death experience to fuel his performance in Pain and Glory.
Films
Director:
El Camino de los Ingleses (2006)
Crazy in Alabama (1999)
Actor:
Official Competition (2021)
The Hitman's Wife's Bodyguard (2021)
Dolittle (2020)
The Laundromat (2019)
Pain and Glory (2019)
Life Itself (2018)
Beyond the Edge (2018)
Genius (2018)
Bullet Head (2017)
The Music of Silence (2017)
Acts of Vengeance (2017)
Security (2017)
Gun Shy (2017)
Black Butterfly (2017)
Altamira (2016)
The 33 (2015)
Knight of Cups (2015)
The Expendables 3 (2014)
Automata (2014)
Machete Kills (2013)
I'm so excited (2013)
Justin y La Espada del Valor (2013)
Los amantes pasajeros (2013)
Ruby Sparks (2012)
Haywire (2011)
Day of the Falcon (2011)
La piel que habito (2011)
Puss in Boots: Story of an Ogre Killer (2011)
You Will Meet A Tall Dark Stranger (2010)
Shrek Forever After (2010)
The Big Bang (2010)
Un-broke: What You Need To Know About Money (2009)
Thick as Thieves (2009)
My Mom's New Boyfriend (2008)
The Other Man (2008)
The Code (2008)
My Mom's New Boyfriend (2008)
Shrek the Halls (2007)
Shrek the Third (2007)
Bordertown (2006)
Take the Lead (2006)
The Legend of Zorro (2004)
Far, Far Away Idol (2004)
Shrek II (2004)
Imagining Argentina (2003)
And Starring Pancho Villa As Himself (2003)
Once Upon a Time in Mexico (2003)
Spy Kids 3-D Game Over (2003)
Ballistic (2002)
Frida (2002)
Spy Kids II Island of the Lost Dreams (2002)
Femme Fatal (2002)
The Body (2001)
Spy Kids (2001)
Original Sin (2001)
Play it to the Bone (2000)
The Sparrow (2000)
The 13th Warrior(1999)
The White River Kid (1999)
The Mask of Zorro (1998)
Evita (1996)
Two Much (1995)
Nunca Hables con Extraños (1996)
Asesinos (1995)
Desperado (1995)
Miami (1995)
Four Rooms (1995)
Entrevista con el Vampiro (Crónicas Vampíricas) (1994)
De Amor y de Sombras (1995)
La Casa de los Espíritus (1993)
¡Dispara! Joven Mussolini (1993)
Philadelphia (1993)
Valparaíso (1993)
Los Reyes del Mambo Tocan Canciones de Amor (1992)
En la Cama con Madonna (1991)
Cuentos de Borges I (1991)
Una Mujer Bajo la Lluvia (1991)
Terra Nova (1991/I)
¡Átame! (1990)
Contra el Viento (1990)
La Otra Historia de Rosendo Juárez(1990)
Si te dicen que caí (1989)
La Blanca Paloma (1989)
Mujeres al Borde de un Ataque de Nervios (1988)
Bajarse al moro (1988)
Bâton rouge (1988)
La Mujer de tu vida: La mujer feliz (1988) (TV)
La Ley del deseo (1987)
El Placer de matar (1987)
27 Horas (1986)
Matador (1986)
Así Como Habían Sido (1986)
Delirios de Amor (1986)
The Puzzle (1986)
La Corte de Faraón (1985)
Caso Cerrado (1985)
Réquiem por un Campesino Español (1985)
Zancos, Los (1984)
El Caso Almería (1983)
El Señor Galíndez (1983)
Y del seguro... Líbranos Señor! (1983)
Laberinto de Pasiones (1982)
Pestañas Postizas (1982)
Read about Antonio Banderas' production company's project.