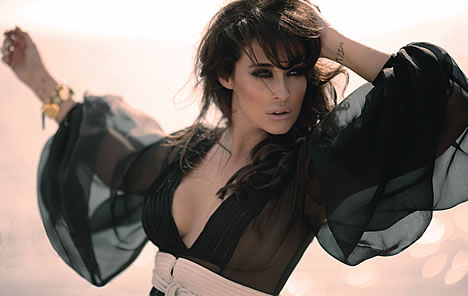 Vicky Berrocal - Designer & TV presenter (1973 - )
"LA MUJER ANDALUZA PERFECTA" THE IDEAL ANDALUCIAN WOMAN: EXCLUSIVE INTERVIEW WITH VICKY MARTIN BERROCAL
Fiona Flores Watson
Designer, TV presenter and Andalucian icon Vicky Martin Berrocal, whose dresses have adorned Harrods' windows, talks exclusively to andalucia.com about her passion for fashion, flamenco and foreign travel.
I am meeting Vicky Martin Berrocal in her exclusive spa-club in the El Porvenir area Seville. The interview with the Sevillana darling, star of the small screen and queen of the catwalk, is to take place in the light, airy restaurant, with comfortable wicker sofas and Feria-style green-striped cushions. Before I see her, I hear the click-clack of high heels, then a tall woman with long brown hair, wearing jeans and a checked shirt, stops at my table. She introduces herself, very naturally. As we start the interview, I'm so nervous (she's pretty famous here in Andalucia) that I fumble with my voice recorder, forgetting how it works. Rather than tutting, sighing and getting impatient as some interviewees would do, Vicky takes it from me, checks the battery is in properly and generally calms me down with her kindness and lack of pretension.
Traje de flamenca from Vicky's latest collection.
Sitting next to me on the sofa, face scrubbed clean of make-up, she talks me through her latest flamenca collection, which she showed at the International Flamenca Fashion Exhibition (SIMOF) in February. These are the long, frilled gypsy dresses with tight bodies and ruffled skirts which are worn at ferias around Andalucia. "It's divided into four sections", she explains. "The main collection, Rocio, Feria day and Feria night, with 35 dresses in all." The main collection's designs are all in different tones of gold/rose/copper, while the other sections' dresses use fabrics in everything from multicoloured prints to spots, so typical of flamenca dresses, in varying sizes.
"I had to mix 10-12 different threads to get the exact colour I wanted," she tells me. "Each dress is made using two types of fabric." The trajes de flamenca have intricate details, from shawls sewn into them, to panels of leather flowers. She explains the amount of work which goes into the décolletage of one dress: "It takes 20 days just to stitch this part - the silk fringe is sewn on by hand, tassel by tassel", she says, indicating clearly on her own body the area she's referring to; she obviously has no qualms about being so physically expressive in public.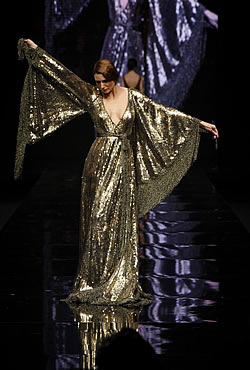 Twenties elegance - Vicky Martin Berrocal 2011.
"I used silk, gauze, satin, never poplin," (the stiff cotton used to make most Feria dresses). Clearly, she prefers the more sensual, tactile fabrics. Her dresses shimmer and shine, and are all show-stoppers.
"Some of the fabric I had woven specially for me in Italy," she says.
The evening Feria dresses are spectacular; one is 1920s-style, in glimmering gold, with huge batwings - pure glamour, while the El Rocio numbers have Wild-West-style leather chaps and denim, mixed with delicate fabrics such as silk gauze and satin - incongruous but ingenious - with the inevitable frilled skirts (eight layers) and ruffles. These flamencas are shown accessorised with flat caps and small leather bags, traditional for the El Rocio pilgrimage in May, which takes place in Vicky's home province of Huelva. It's Little House on the Prairie crossed with Cabaret, aimed squarely at Seville's well-heeled, the local Barbour set, who are El Rocio regulars.
Vicky lived in Huelva city, one of Andalucia's less touristic regional capitals, when she was a child, although she was born in Seville. She went to boarding school in Switzerland for four years, and then studied marketing at university. Her father, who died two years ago, was a successful bull-breeder, and Vicky married a bullfighter; in Spain, this is the equivalent of getting hitched to a footballer, only more so: both more glamorous and more macho. And much, much more dangerous. They had a daughter, Alba, and divorced soon after. She was a popular contestant in Mira Quien Baile (Strictly Come Dancing) a few years ago, coming second. Her unfailing good humour and energy, and fallibility, endeared her to the public. Aged 38, Vicky is less plastic, both in personality and in appearance, than many other female 30 and 40-something TV personalities who fill Spanish screens on the endless high-volume discussion shows.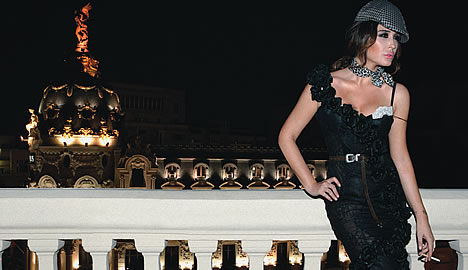 These days, Vicky concentrates on her designing. Besides the trajes de flamenca, she produces both wedding and evening collections as well, to be show in Barcelona in May. Until recently, her weekends were taken up with presenting a singing show on regional TV; one of her new projects is a chat show for Canal Sur, one of Andalucia's television channels. "I've never done a programme for my local TV station," she says. "I'm hoping it will start in September."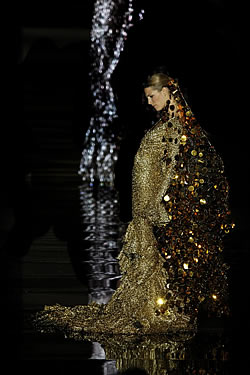 Show-stopping glamour - Vicky's evening
flamenca collection 2011.
"I want to interview women who are hard-working and have achieved a lot. I like Penelope (Cruz) - she has made a steady climb - las prisas no son buenas (rushing isn't good for anyone). I'd love to interview Angelina Jolie - I like her way of living, her attitude, how she treats other people, her generosity. I admire her," says Vicky. "Another ideal guest, someone who has her own shape, and knows how to sell herself, is Jennifer Lopez."
As well as her TV and fashion careers (she is self-taught; "I never studied design", she says, "I use my instinct; how something makes me feel"), Vicky is a devoted mother. It's every little girl's dream; 12-year-old Alba gets two dresses every season, mini version of what her mother designs. "I decide which ones - she trusts me," Vicky tells me. Alba loves horse-riding, fittingly for a torero's daughter; they go roller-blading and cycling together in the park.
She tells me, excitedly, that earlier that week an American buyer had been to visit her in her taller (design studio) to see the collection. The buyer loved it; the details are to be confirmed, but Vicky's dresses may soon be stocked in major department stores in New York, LA and Chicago.
"We're also planning shows in Dubai and Russia, and a project with Paco Rabanne. When I started getting calls from stylists in Paris and the US, I was surprised because I've never had press representation," she explains. "It's just me, the women who make the dresses and my assistant. I come from the south, and little by little I'm taking my dresses further afield."
One for Miss Middleton? Vicky's lace train is
fit for a bride.
"It's a real achievement for me, to have got this international recognition on my own." This woman, already a household name in Spain, is clearly delighted by her own success, and is going places.
Vicky is very warm and personable, and she has that habit of leaning towards you conspiratorially when she tells you something, that makes you feel she's sharing an important secret with you. Her voice is deep and husky, and she has no airs and graces. As an unknown foreign journalist, I wasn't sure how she'd treated me, but she was unfailingly polite and kind.
What about her own style? She loves Zara: "I have a Zara smoking jacket, and I was wearing it in this restaurant in Istanbul. I went to the ladies, and there were two women in spectacular dresses. They asked me where I got my jacket from!" The designer she most identifies with is flamboyant Italian label Dolce and Gabbana, while she also admits to having "a weakness for Valentino", (now disgraced ex-Dior) John Galliano is "un mago" and Alexander McQueen's sudden death last year was "una gran pena". At our interview, she is wearing Zara jeans ("soy muy vaquera"), an H&M blue-and-red checked shirt, high-heeled sheepskin-lined boots, and a G-buckle Gucci belt.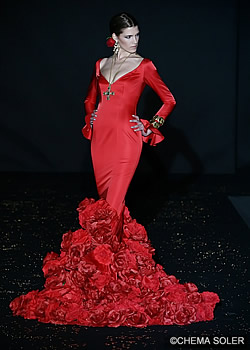 This stunning creation was photographed by
Annie Liebovitz for US Vogue.
Before the US arrival, Vicky's designs have featured twice at Harrods: in October 2009 and 2010, her dresses were in the windows of the Knightsbridge department store, along with other typically Spanish products. "The dress from October 2009, red with flowers, was shot by Annie Leibowitz for US Vogue," she tells me proudly (for a Spanish special with Penelope Cruz, to celebrate the release of the movie Manolete, about the famous bullfighter). Vicky has also designed a flamenca dress for Barbie.
Where does she go in London? "Top Shop!" she exclaims. "The big one in Oxford Circus. I spend hours and hours in there, looking around and buy lots of clothes." For eating out in the English capital, she likes Japanese (a Michelin-starred restaurant, she can't remember the name, not Nobu) and Chinese (at the Dorchester).
Vicky loves to travel, when she can. "New York is the capital of the world," she says. "Every time I go there, I am more convinced." "the first time I went, I arrived alone and walked around till 3am. I always feel safe there." She loves looking at the shop windows, "for inspiration", while favourite eateries in the Big Apple include trendy Mexican The Corner and fashion-pack hangout Balthazar.
The classic flamenca spots, revamped with leather.
2011 collection.
And what about Andalucia, "mi tierra"? And the popular adage that she is the quintessential Spanish woman (dark hair and eyes, curvy figure - she's lost weight, though - flamenca designer and bull-girl: daughter of breeder, ex-wife of fighter): it's a "piropazo", she says - a massive compliment. "I am very happy to represent my country." Favourite places in Andalucia? "Es magica entera," she says. "Hay sitios magicos donde vayas." (It's all magical, there are magical places wherever you go.) Malaga, El Rocio, Las Marismas, Los Lugares Colombinos - she returns to her native Huelva. And beaches? Punta Umbria - where she used to go as a child; Formentera, in the Balearics; and Caños de Meca, on the Costa de la Luz.
So what does she do for fun? "I used to go out a lot, but I'm much calmer these days. If I do go out, it's for flamenco. I'm lucky enough to have friends who are flamenco artists. I like to go to their houses, someone has a guitar. and we have a fiesta flamenca". So speaks the Andaluza par excellence.
Men love her, for her curvy body, deep, sexy voice and wicked sense of humour; women want to be her: fun, popular and stylish - and a successful businesswoman - she's been approached about new products, from sunglasses to perfume. Vicky Martin Berrocal is fast becoming a brand; a more affordable line of flamenca dresses, a snip at 1000 euros (half the main collection's price tag), will be available nationwide from September. She mixes high street with designer, Top Shop with Louboutins; she went to Swiss boarding school and yet is down-to-earth; and she's about to go global. And take Andalucia with her.