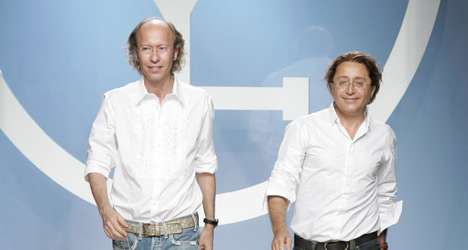 Fashion Designers
AC- Many people believe that the character of your native land of Andalucía – Córdoba in the case of Víctor, and Sevilla for José Luis – is always reflected in your work. Do you believe this to be so, that these roots are always present in each and every one of your creations?
VL- Definitely, because what we are conceiving is a creative feeling that comes from here. The idiosyncrasy of our land stamps out in us a character and an aesthetic way of understanding life. It is more obvious in some collections than in others, where the spirit embraces a subtlety that only those who are immersed in them can see.
AC- What inspires Victorio y Lucchino to create their different collections?
VL- Sources of inspiration are continuous, diverse and different, if you know how to draw from them. But without conscious effort, there is a common thread running through them all: the essence of Victorio & Lucchino.
AC- Do you have any muse, or any figure that has inspired you in a special way at any time during your long professional career?
VL- We could say this is Andalucía itself.
AC- What would you say about those who do not consider fashion as an art?
VL- That they must be rather foolish and also blind.
AC- Apart from clothes and fashion accessories (bags, watches, jewellery, sunglasses, etc.), you also design and work on decoration and interior decorating projects. In applying your creativity to different objectives, what would you like to do that you have not done so far?
VL- We would love to design urban spaces.
AC- If you had to limit yourselves to only one facet of design, due to force majeure, so to speak, which would you choose?
VL-Fashion, which is the mother of all.
AC- What projects are you working on at the moment?
VL- We are totally immersed at present in preparing the prêt-à-porter collection for men and women for the summer of 2009 which we will be presenting at the Cibeles Fashion Show on 15 September. All our lines of accessories are also aimed at all the collections for that same season.
AC- As Andaluces whose work is based in Sevilla, we would like you to recommend to visitors to Andalucia.com those tapas bars you like most in the city.
VL- The Flor del Toranzo, Sol y Sombra and the Rinconcillo.
AC- And for lunch or dinner at a good restaurant, which are your favourites?
VL-The Oriza, La Isla and the Comensal.
AC- And to go out drinking and live Sevillana nightlife to the full.
VL- The Anselma, the terraces of the Hotel Eme and the terrace at the Hotel Alfonso XIII.
AC- Finally, which places of historical and/or artistic interest in Sevilla would you consider essential for any Spanish or international tourist to visit?
VL- The Reales Alcázares, Cathedral, Archive of the Indies and the Fine Arts Museum are a must. But we would also love to suggest the more hidden corners of Sevilla, not so easy for tourists to find, such as the Conventos de Clausura which house very important artistic collections.