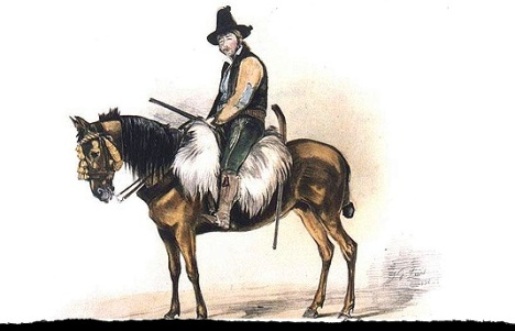 Jose María Tempranillo, Sketch by John Frederick Lewis
John Frederick Lewis - Artist 1804 - 1876
John Frederick Lewis was an English Orientalist painter who specialized in Oriental and Mediterranean scenes.

Lewis travelled in Spain and Morocco between 1832 and 1834.

The drawings he made were turned into lithographs by him and other artists, and published as "Sketches and Drawings of the Alhambra" in 1835, made during a stay in Granada from 1833 to 1834. Lewis also published "Sketches of Spain and Spanish Character" in 1836.

For a while he became known as "Spanish Lewis", to distinguish him from "Indian Lewis", his brother Frederick Christian.
The revered English travel writer John Ford 'When Fernando VII was the King of Spain and José Maria was the love of Andalucia'. This reference inspired Ford's friend, Lewis, to include El Tempranillo in a collection of drawings from the region. Visiting Córdoba, Lewis realised that more people were talking about El Tempranillo than they were about the King. Lewis managed to contact and meet El Tempranillo, in 1832. His portrait depicts a small man (barely five hands) on an equally small horse, with dark hair, blue eyes, a large mouth and thin pointed nose. He is dressed in a fine shirt and a velvet jacket with silver buttons and leather bindings.
Lewis was an early traveller on what was to become a well-trodden route for English artists, though some ten years behind David Wilkie in Spain. David Roberts who became the other leading British Orientalist, mainly through his lithographs, was in Spain (and the Middle East) at the same time as Lewis, though the two rarely met.