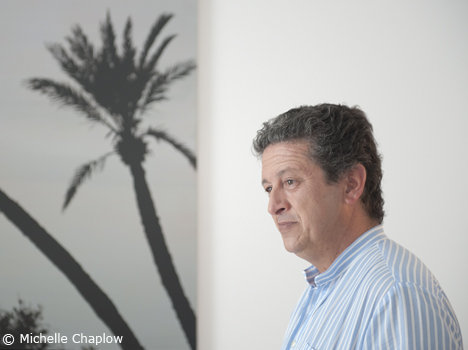 Valentin de Madariaga
Valentin is a world-famous architect and president of the Fundacion Valentin de Madariaga y Oya. Born in Seville in 1960, he lived in his native city until the age of 18, when he moved to Madrid to study architecture. After university Valentin remained true to his Andalucian roots, working in Malaga, Cadiz and Seville.
Andalucia.com was fortunate enough to interview Valentin in his self designed dream contemporary home, with 360 degree views to the mountains and Mediterranean. We spoke to Valentin about the Fundacion de Valentin de Madariaga y Oya, his passion for contemporary art and architecture, and of course his family...
RT: The Foundation Valentin de Madariaga or in spanish The "Fundación Valentín de Madariaga" is named after your father, did he have a great influence in your work?
VdM:  No, not really, my father was an engineer. My grandfather was an architect in the 1930s, 40s and 50s, for the Bank of Spain; he was an artist and very special person and a very formal gentleman. When I decided to study architecture, as an engineer he wasn´t impressed, he didn't understand me, until of course he saw first hand the fruits of my work. 
RT: What about your brothers and sisters - are they artistic?
VdM: There are five of us all together - I am the eldest; they aren't artistic really. My brother is an engineer like my father. Angela, the middle sibling, works with the foundation, and my other siblings also work within our other companies; we are a real family business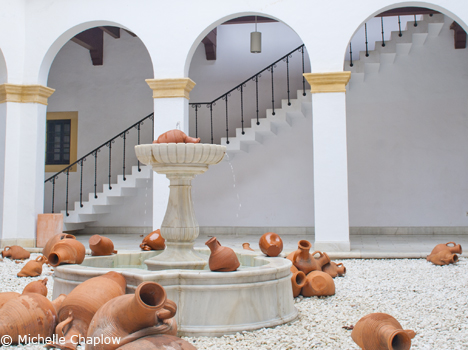 RT: Does your Art foundation help young artists?
VdM: Yes I think it helps young artists. I started the foundation one year after my father died, and one of the most important things within the foundation is art. We started a family art collection inspired by the environment and nature; it was something we all enjoyed together as siblings. We are not religious, we are not political - we like art. So we have been collecting art since 2003. By 2008 we had such an inspiring collection that the Seville town hall leased us the building [the former Expo 29 pavilion of the US] for the foundation. They believed that we should show our collection to the city and the people.
RT: Do you think the institution has contributed to the growth of contemporary art?
VdM: Yes, culture is very important in education, especially for those in the art world; if you do not have the information and you don't see the art, how can you possibly adapt to that world? I find it sad that we buy the latest make of car, the most fashionable dress, or the trendiest watch, and yet we don't do the same with art. I try to trust the artists, and I help them because it's so important to our education - if you are in the position to push people to, "look at this" and "do that", then you should.
Many people come and they see my house filled with contemporary art, and they realise it's not just something you see in a gallery or museum - you can live among it. That is what I am always happy to achieve: to change people's perspective of contemporary art.
RT: And has the foundation influenced you?
VdM: Of course - I didn't really like photographs, and now I love them. I thought I didn't like green pictures until I found one piece that changed my opinion completely. I am constantly discovering new things.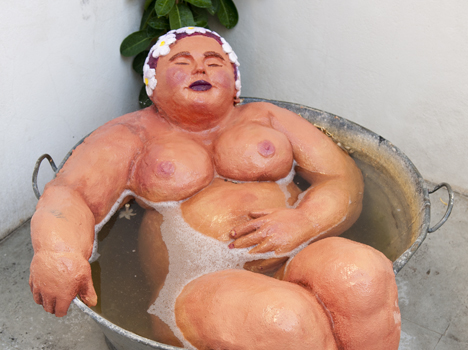 RT: Do you have a favourite piece of art?
VdM: No, I love all of them - we have been collecting art for 20 years, so there are pieces that I don't like now as much as when I first got them. There are also pieces that I have come to like more, but no favourite. It's all together that I like it; the collection has a heart, it comes from the heart of my wife and I. There are 110 pieces in my house, but we have more than 400 pieces in our offices and all over the place, because the art is part of our family.
RT: Within your own personal work, do you have a favourite piece of architecture?
VdM: I have to work with what the client wants, so it is hard to pick a favourite. I am proud of my work, but the buildings are designed to fit someone else's needs. For me, here, my home - this is my dream house, made to contain all the things I love: my family and my art.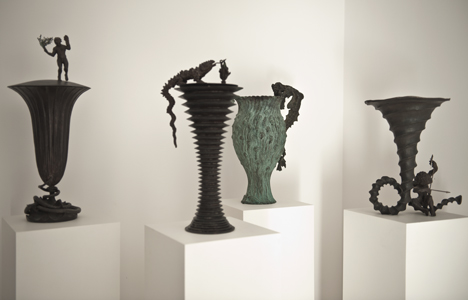 RT: Now I notice that there is a rather large boulder built into your swimming pool, do you enjoy working around obstacles?
VdM: All the time - it could be a golf course, or something small like a rock. God created the beautiful landscape to work around; this tree and that cactus, how can I destroy these things? The environment is very important to me; I play with these elements in my work because that's what makes it special. Normally the land communicates and tells me exactly where to put a house - the land speak to me - what position it needs and what aspect: I aim to highlight the land, not destroy it.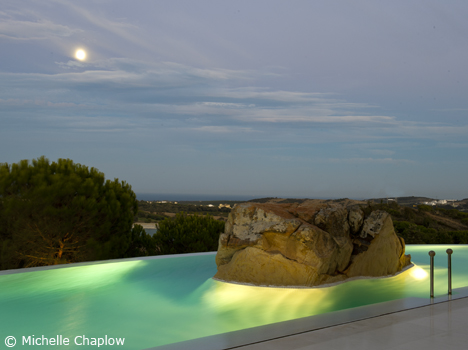 RT: So do you believe in Feng Shui?
VdM: About 18 years ago an English client sent me to his Feng Shui teacher before I started working on a project. He wanted me to learn about living with the environment. I found it amusing because it is something that comes naturally to me; living in peace with the environment.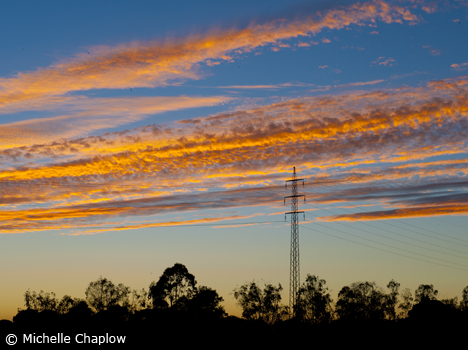 RT: How did you choose this piece of land to build your 'dream house'?
VdM: The land here is incredible. It is an area with a golf course and only 23 plots; I own almost one hectare. But this is land that I have loved for ages, even before the urbanization was built. I came up here and I just knew, I decided then that it was where I wanted to live. More than anything it is the double view, over there is the sea, and in the other direction [mountains] it's just perfect. You are on top of Sotogrande, I'm so happy to be here.