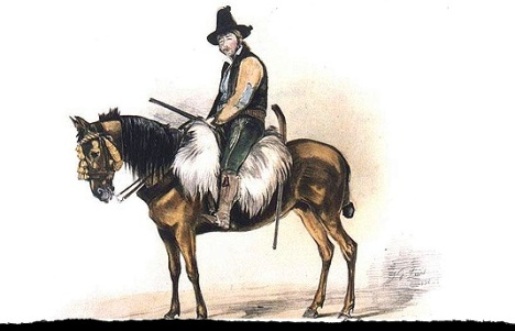 Jose María Tempranillo, Sketch by John Frederick Lewis
'El Tempranillo' - Bandit (1805-1833)
by John Gill
One of the least-known tourist attractions of 19th century Andalucía was the experience of being held up by one of the region's numerous bandoleros, (bandits). It is rumoured that when British and other northern European tourists began including Andalucía in their travel itinerary, some even went as far as to pay to have themselves 'held up' by a bandit and his gang. None of them was as famous as José Maria Hinojosa Cabacho, 'El Tempranillo', born in Jauja on 21 June 1805 and buried in the neighbouring village of Alameda 28 years later.
Most bandoleros were driven into banditry by sheer poverty and the harsh feudal system still active in Spain, while a few, famously the bullfighter José Ulloa Tragabuches, were noblemen driven into fleeing the law because of a crime of passion. El Tempranillo was born into a poor family during the privations of the Napoleonic invasion of Spain at the beginning of the 19th century. He is believed to have killed his first man at the age of thirteen, possibly because of an attack on his family, possibly because of a slight against his mother. Whatever the cause, he evaded arrest and joined a gang of young bandits, later establishing his own gang based in a cave near the Despeñaperros pass, the main route into Andalucía from the north.
Essentially, the bandits levied a tithe on rich travellers to ensure their safe passage, often collecting the tithe in broad daylight. El Tempranillo quickly became famous for his charm, once telling a woman traveller 'Ah, señora! A hand so beautiful as yours does not need adornments!' while relieving the blushing traveller of her rings and other jewellery, before kissing her hand and biding her a safe journey onward. He also acquired a Robin Hood-like reputation, redistributing his ill-gotten wealth among the poor. Not all bandits were so gallant, but El Tempranillo became a cult figure throughout Andalucía and beyond. This history of notorious guests at Andalucia's oldest roadside halt; La Venta de Alfarnate includes an amusing anectote of El Tempranillo's visit one lunchtime. At one point, frustrated authorities, in the form of Don Vincente Quesada, Captain General of Andalucía's armed forces, offered a reward of six thousand reales to the soldier, royal volunteer or private individual who apprehended El Tempranillo dead or alive.
An astute self-publicist, El Tempranillo, a short man with only one hand (he lost the other in a pistol accident), became an early exponent of the sound-bite. He once announced that while the king may rule Spain, El Tempranillo ruled the sierra. Indeed, his nickname was King of the Sierra Morena. He married a young woman, María Gerónima Francés, from the village of Torre Alháquime in Cádiz region, but she died in childbirth in 1831. El Tempranillo scandalised the authorities when, with the aid of fifty other horsemen, he rode into the mountain village of Grazalema, north-west of Ronda, to baptise their son in the village's Nuestra Señora de la Aurora church, while the authorities looked on helplessly.
The revered English travel writer John Ford wrote of Tempranillo's time as one 'When Fernando VII was the King of Spain and José Maria was the love of Andalucia'. This reference inspired Ford's friend, the artist John Frederic Lewis , to include El Tempranillo in a collection of drawings from the region. Visiting Córdoba, Lewis realised that more people were talking about El Tempranillo than they were about the king. Lewis managed to contact and meet El Tempranillo, in 1832. His portrait depicts a small man (barely five hands) on an equally small horse, with dark hair, blue eyes, a large mouth and thin pointed nose. He is dressed in a fine shirt and a velvet jacket with silver buttons and leather bindings.
El Tempranillo's daring broad daylight hold-ups, and his increasing popularity among the general pubic, eventually forced King Fernando VII to offer him a pardon in return for his working for the state. The pardon was formally granted in Estepa in August 1832, although no written record of the pardon survives. José Maria was made commander in chief of the Escuadrón Franco de Protección y Seguridad Pública de Andalucía (the free squadron for the protection and public security of Andalucía), at the head of sixty mounted guards who wore a uniform similar to that of Spain's army. This was eleven years before the establishment of Spain's Guardia Civil in 1844.
The bandit turned policeman was seriously injured in a shoot-out while pursuing another José Maria, the bandit El Barbarello, from Estepa, during an attempted arrest on the road between Alameda and Mollina in 1833. He was taken to the Parador de San Antonio in calle Granada in Alameda, but died the next day, 23 September 1833.
He was given the last rites by the town's parish priest, Navarette, and dictated his last will and testament before one Jerónimo Orellana, the village's notary. Despite his years of banditry, El Tempranillo left little to his orphaned son, also baptised José Maria. The will contained little more than two small houses, two horses and a few reales borrowed from friends.
By unusual coincidence, King Fernando VII died in Madrid six days later. José Maria Hinojosa Corbacho was buried in a carved tomb in the church of Alameda, where it can be seen in the church's interior patio today. He is one of the key figures featured in Ronda's Museo de Bandolero.
A tourist 'Ruta de Tempranillo' has been created which links the small villages where Jose Maria Tempranillo frequented. These are Alameda, Badolatosa, Benamejii, Casariche, Corcoya, Jauja, Palenciana. There is also a cultural project called 'Tierras de Jose Maria el Tempranillo' which organizes local cultural and educational events and conferences, and an annual tapas routes.