La Venta de Alfarnate
By Chris Chaplow
The Venta de Alfarnate is the oldest venta or roadside inn in Andalucia, and is located at km 514 of the old Malaga to Granada camino real (royal highway) road in the mountainous Axarquia region of Malaga province.
After the Civil War, the Guadalmedina valley to Antequera to Archidona route was upgraded as part of the Plan Peña. The Venta is located at what is now km 6.5 of the A-4152, at the junction with the MA-156 road to the village of Alfarnate, and more importantly leading down the town of Velez-Malaga. The Venta is just four kilometers from the Puerto de los Alzores (mountain pass) in the Sierra de Jobo, which is the highest point of the road and marks the boundary between Malaga and Granada provinces.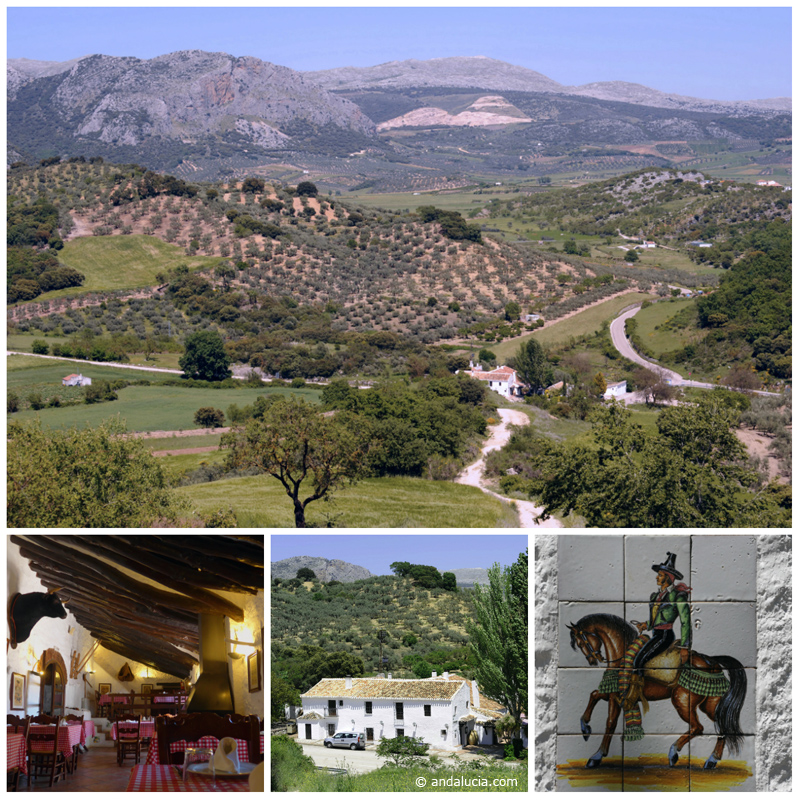 This location was a strategically important crossroads in bygone years, and an ideal place to rest horses when travelling from the coast inland.
La Venta de Alfarnate is said to date from the 13th century, however the earliest surviving written document to date it, is a 1691 escritura (deed) signed by the notary of Archidona.
According to a ceramic plaque outside the Venta, an armed gang of 12 men carried out a daring robbery of the Malaga stage coach on 21 April 1850. Those days of lawlessness are long gone - today the Venta is a pleasant place to stop and look around, serving traditional fare in the many dining rooms (it's a bit of a labyrinth inside).
The Venta is advertised as a Museo de Bandolerismo Andaluz (Andalucian Highwaymen or Bandit Museum). This term is sometimes used in Andalucia to mean simply one room with a little memorabilia. The various dining room walls are full of old photographs, many bullfighting posters and relics, and 19th-century prints and water colours of the venta's exterior, with scenes of a market and travellers;others show groups of bandoleros drinking and scheming inside the Venta. 
Illustrious and notorious guests
Over the years the Venta has hosted many illustrious guests including King Don Alfonso XIII, who stayed here overnight. Local press articles on the wall report that the Venta still has a copy of an invoice made out to Saint Joseph Calasanz (1557 - 1648), the Spanish priest and educator who founded the Pious Schools which provided free education to the sons of the poor. A friend of Galileo, Calasanz opened the first free public school in Europe, located in Rome. Since he died in 1648, the document predates the Archidona deed.
Some guests are not so illustrious -bandolero (bandit) Luiz Muñoz Garcia, better known at El Bizco de El Borge (the Squinter of El Borge, 1837 - 1889) was a frequent visitor. He stayed here each time he came to meet his lover, a married woman from Alfarnate.
Bandolero José Pelagio Hinojosa Cobacho, El Tempranillo, the most famous bandit, also visited the Venta. According to legend, he walked in one lunchtime and greeted a group of men who were eating migas (a country dish of breadcrumbs, fried pork fat and garlic, sometimes served with grapes and sardines) from a large communal bowl, as was typical then.
The hungry men did not reply and all looked down. The traveller asked, "May I join you?", and the men replied that it was not possible, as there wasn't a spare spoon. The stranger said, "No matter", and took a piece of bread and hollowed it out, so that the crust formed a spoon. The group still did not make a space for him. The traveller then took out a pistol and said, "My name is Jose Maria El Tempranillo". Upon hearing this, they all apologized profusely and invited him to help himself to as much migas as he wanted.
Another bandolero, Luis Candelas from Madrid, spent the night at the Venta de Alfarnate under armed guard in March 1824, when he was being taken from court in Madrid to serve his prison sentence in Malaga for stealing two horses and a mule.
Historic Prints
Also decorating the walls of the dining room are historic prints. One is a proud uniformed photo of Andres Segovia, Sergeant of the Guardia Civil who shot and killed the 28-year-old
bandolero 
El Pernales
on 31 August 1907 in Villaverde de Guadalimar (Albacete).                         
Another is a print of the 1836 firing squad in Tortosa (Tarragona) of María Griñó. She was the innocent mother of Ramon Cabrera y Griñó (1806 - 1877), the aristocratic Carlist general who was instrumental in ending the Carlist claim in 1836.
Infante Carlos V, (son of Carlos IV), was an anti-libertarian Catholic reactionary who tried to claim the Spanish throne after the death of his brother King Ferdinand VII in 1833. His claim was contested by liberal forces, who considered Fernando's infant daughter to be the rightful heir, resulting in the Carlist Wars. Carlos escaped to England and then France, and finally returned to Spain where he eventually renounced his claim to the throne in 1845.
After the Carlists were defeated, Cabrera lived his later years in London, and died in Wentworth, Surrey. His tomb, which has Listed Building Grade 2 status, is in a railed-off section of Christ Church churchyard in Virginia Water. 
Practical information
The Venta's gastronomy is Andalucian mountain and country fare, including migas de Alfarnate, huevos a la bestia (eggs with pork loin, spicy sausage, and blood sausage), chivo al ajillo (baby goat with garlic), morcilla de cordero frita con tomates (fried lamb sausage with tomatoes), and revuelta de tagarninas y gachas de anis (scrambled eggs with thistles and aniseed).
The Venta has a small shop selling jamon serrano, olive oil, lentils, chickpeas and other local products.
Open Tuesday to Sunday from 11.00 to 19.00.  Food is served all day.
Tel: 952 759 388
In the summer you can sit in the enclosed outdoor patio to dine. Whilst in the area, you may want to have a stroll around the town.