La Axarquia Destinations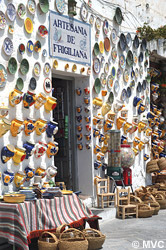 Ceramics from La Axarquia
Here is a list of the different villages and destinations in La Axarquia.
La Axarquia Overview
La Axarquia area is still breathtakingly beautiful and has not been spoilt by the interest and influx of foreigners. The main attractions are the area's dramatic hill and mountain scenery, its unspoilt, white washed villages and the strong sweet wine that is made from sun dried grapes. Because of the region's sub-tropical climate, this is also a region where some of the more tropical fruits, such as mango and kiwi are grown. More>
Lawyers property law
C&D Solicitors
Specialized in property law (urban and rustic properties) & inheritance law within Andalucia.
Village Destinations in La Axarquia
Alcaucín
Alfarnate
Alcaucin is a village in the province of Málaga in the Axarquía region. It is located at the foot of the Sierra de Tejeda mountains.
More >
Alfarnate is one of the seven municipalities of La Axarquia that makes up the Ruta del Aceite y los Montes.
More >
Alfarnatejo
Algarrobo
Alfarnatejo is one of the seven towns that form the Ruta del Aceite y Los Montes, and is also popularly known as "the Southern Pyrenees".
More >
On the Ruta del Sol y del Vino, Algarrobo is divided into two parts, one inland and the other coastal, located 3 km away from each other.
More >
Canillas de Aceituno
Almáchar
Canillas de Aceituno is a small whitewashed village located at the foot of Sierra de Tejeda. It is a natural balcony of Axarquia.
More >
The banks of the river that runs by Almáchar have vineyards, olive groves, wheat fields and small orchards.
More >
Almargen
Alozaina
Almargen is the perfect place for people who enjoy tranquillity and outdoor tourism.
More >
The municipal district of the village of Alozaina sits between the distinct geographic regions of the Guadalhorce Valley and the Serrania de Ronda.
More >
Archez
Arenas
Archez is one of the smallest and prettiest towns in the Axarquia comarca of Malaga.
More >
Arenas is the start of the Ruta Mudejar which runs through 5 towns in the Axarquia comarca.
More >
Benamocarra
Benamargosa
Benamocarra is one of towns, in the Axarquia comarca, that make up the Ruta del Sol y del Aguacate.
More >
Lower down in the Lake Viñuela area is the village of Benamargosa, which is in the midst of a sea of citrus and other fruit trees.
More >
Colmenar
Comares
Colmenar is one of the most important villages in this area, being the Capital of the Malaga Mountain villages.
More >

One of the highest pueblo blancos in Andalucía (739 metres above sea level), Comares can be spied for miles around.
More >
Cómpeta
El Borge
Long known as the pearl of the Axarquía is the town of Cómpeta; one of the best bases for a stay in the Axarquía.
More >
The town of El Borge is situated at the foot of the Cerro de Cutar mountain, on the border of the Axarquia and Montes de Malaga comarcas.
More >
Frigiliana
Iznate
Just seven kilometres north of Nerja is the typical pueblo blanco of Frigiliana.
More >
Iznate is known as "the paradise of the Muscat grape", where grapes, almonds, avocados and olives are produced.
More >
Macharaviaya
Moclinejo
This hill village enjoyed the height of its fortunes from the 18th century until the beginning of the 19th century.
More >
The town of Moclinejo is set on a peak of the Piedras Blancas hills, between olive groves, almond groves and vineyards.
More >
Periana
Riogordo
To the north of the lake is the village of Periana, on the river Guaro which provides the reservoir with its water.
More >
Riogordo is another very pretty Axarquía village in the vicinity of Lake Viñuela with the dramatic mountain backdrop of the Sierra del Rey and Alto de Gomer.
More >
Salares
Sayalonga
Salares is part of the Ruta Mudejar in the Axarquia comarca situated on the edge of the Tejeda National Park.
More >
Sayalonga is part of the Axarquia comarca and is situated near the natural parks of the Sierras of Tejeda, Almijara and Alhama.
More >
Sedella
Totalán
Sedella is a town on the beautiful Ruta Mudejar in the Axarquia comarca.
More >
Totalán is part of the Ruta de la Pasa (Raisin route). This small but beautiful town is surrounded by vineyards, almond groves and paseros (raisin drying areas).
More >
Vélez-Málaga
The bustling market town of Vélez-Málaga lies 5 km inland from Torre del Mar, surrounded by subtropical vegetation.
More >