Benamocarra, village in la Axarquia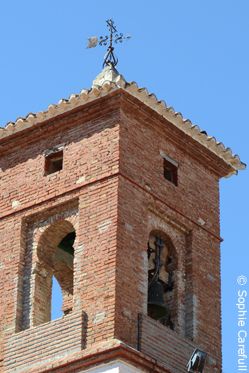 Mudejar style bell tower, Iglesia de Santa Ana
The hometown of the famous composer Eduardo Ocon, Benamocarra is one of towns, in the Axarquia comarca, that make up the Ruta del Sol y del Aguacate.
From Arab origins (the town's name means sons of Mukarran), the town centre has uneven, sloping streets with houses that adapt to the terrain. The notable features of this town are; the Iglesia de Santa Ana (the church of Santa Ana) - a 16th century construction with a Mudejar bell tower (something distinctive to the area); in the highest part of the town is the Plaza del Calvario; the Plaza de la and the Plaza de Eduardo Ocón. The house in which the mentioned composer was born is marked with a commemorative plaque and may worth a visit.
Benamocarra has an ample and varied menu of traditional plates available to try, such as, las migas de pan (fried bread crumbs), gazpacho (cold soup), gazpachuelo (cold soup made with potato, egg, cod and lemon), fried gazpacho (a desert made with vinegar, anise, cinnamon, bicarbonate of soda, sugar and salt) and el frito con morcilla (fried egg with black pudding). But from this great selection probably the most typical dish from the area is the coles moreas - sprouts cooked in oil then fried with garlic, sweet peppers, black pudding and chorizo.
With regard to the local craft, you will find a whole range of saddlery (equestrian) items, many of which are made traditionally with cane and plant fibres. You may also find locally manufactured baskets and chairs made from the same materials.
Benamocarra celebrates many fiestas; One of the more traditional fiestas, the Romería de San Isidro, is on 15 May and is a pilgrimage that starts at the Iglesia de Santa Ana and finishes at the Coto Escolar; During Semana Santa (Holy Week), on resurrection Sunday, the Fiesta de "la pava" takes place; In the first week of September bonfires are made and burnt in the town centre as well as out in the surrounding countryside; and on the third Sunday of October there are the fiestas in honour of Cristo de la Salud.
This town is located around 126 metres above sea level, in the interior of the Axarquia comarca, around 4km from Velez-Malaga and around 41km from Malaga city.
Destinations