Archez
Archez, known as "the Crown Jewel of the 17th Century", is one of the smallest and prettiest towns in the Axarquia comarca of Malaga. Situated 430 metres above sea level, the town is located at the meeting point of the Sierra Tejeda and the Sierra Almijara. You can easily see the Arabic heritage and influence in the town centre - it's one of the five towns of the Ruta Mudejar (the towns of the route all have a similar architectural style).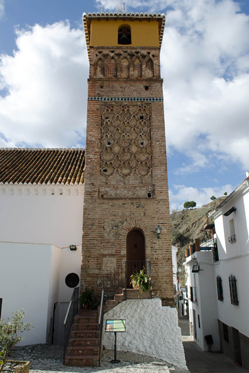 What stands out from all the town's long, winding streets is the Torre Alminar (minaret tower) of the Iglesia de Nuestra Señora de la Encarnación. The 16th-century church is a beautiful example of mudejar architecture and has been declared a national monument.
Another must-see sight in Archez is the Molino de Doña Fidela (Doña Fidela Mill), found at the basin of the river Turvilla, near the town centre. A local tale tells that in the early 20th century, a neighbour bought the mill, shortly after the woman for whom it is named had left. The lucky new owner found a stash of silver and gold hidden under a rock in the river.
Further down this river, you'll come across two old abandoned flour mills: the Reusto and Castran mills, further evidence of the town's former affluence.
For lovers of shopping, there is a busy market, once a week, in the Plaza de Andalucía. The local craftsmen produce objects made from wood and wicker. They also make wine that is sold in bulk by some bars.
If you want to try the local food, the typical dish is guiso de hinojos con arroz (fennel stew with rice). Other delicacies on offer are ajoblanco (chilled almond soup served with peeled grapes), migas (fried breadcrumbs with herring or sardines), chivo (goat with garlic), potaje de garbanzos con bacalao (cod and chickpea stew) and tortas de bacalao con miel de caña (cod and honey cakes). For dessert there's roscos de vino (small, round pastries made with sweet wine), uvas al vino (grapes in wine) and pasas moscatel (Muscatel raisins).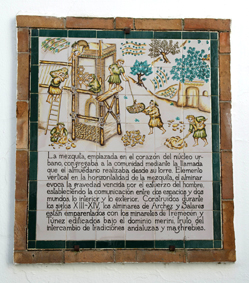 Plaque depicting the construction of the minaret.
Throughout the year, there are several events in Archez to keep those who like lively festivities happy. The Fiestas Patronales (celebrations for the town patrons), in honour of San Sebastian and Nuestra Señora de la Encarnacion, take place in early August and have, amongst other activities, bullfighting. The Fiesta de San Anton takes place in mid-January Semana Santa (Holy Week) is also worth seeing for the procession of the religious icons through some beautiful surroundings.
Archez is located around 52 km from Malaga City and around 21 km from Velez-Malaga.