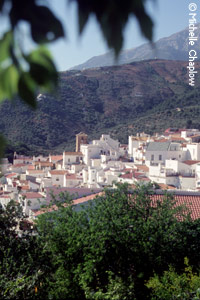 Canillas de Albaida.
As part of the "Sun and Wine Route" in the Axarquía region, Canillas de Albaida is a small inland town that started out as an arab village in the 13th century. It belonged to Velez-Málaga and was named "Albaida", which meant "white", because, according to legend, it was surrounded by an abundance of white flowers.
The centre of this village is located on the slopes of the Tejeda and Almijara mountains right on the border between Málaga and Granada provinces. The layout clearly shows the town's Arab origins with a labyrinth of narrow streets, winding through rows of low, whitewashed homes – modern day cars can barely fit.
The most outstanding monuments are:
Nuestra Señora de la Expectación" (Our lady of expectation) church, located in the village square
Santa Ana Hermitage, a simple temple built at the highest point of the town and offering splendid, panoramic views of the surrounding mountain ranges
San Antón Hermitage, built in the 17th century in the lower area of the town about half a kilometre from the village square
Other areas of interest in terms of nature areas in the municipality are:
Paraje de las Cuestas, a nature area with an old Arab road and a stone bridge that joins the Cájules and Turvilla rivers
Fábrica de la Luz, an area with camping facilities within the Sierras de Tejeda, Almijara and Alhama Nature Park
Caves, the Piletas, Agua and Conejo caves are also located in this general area
And in the gastronomy department, typical plates include the Canillas version of the old fashioned Andalucian staple for farmers, "migas" made with both wheat and corn. Also on the local menu you'll find fried pumpkin and for dessert, you might be lucky enough to find the roscos and Easter pastries that are made locally during special festivals. Finally, in the beverage department this region is famous for its Moscatel wines in either their dry, semi dry or sweet versions.
This town is 55 kilometres from the city of Málaga and 24 kilometres from Velez-Málaga.