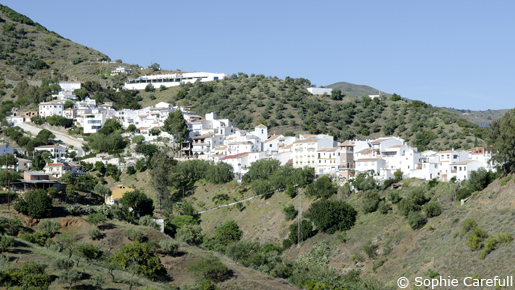 The white village of Totalan in Malaga province.
Totalán is part of the Ruta de la Pasa (Raisin route). This small but beautiful town is surrounded by vineyards, almond groves and paseros (raisin drying areas). The town has an Arabic heritage, with its narrow, steep, winding streets and whitewashed houses. It is located in the middle of a valley, on a small hill, on the eastern border of the Axarquia comarca, very close to the Montes de Malaga (mountains of Malaga).
Visitors to this town shouldn't miss three points of interest. The first, the 16th century Iglesia de Santa Ana, is the oldest and most recognisable building, and is located in the town centre. Its most striking features are its two Tuscan columns of red marble, its Mudejar-style tower and the Arabic arch that joins the church to nearby houses. This also creates an entrance to one of the narrow streets of the town. The second stop is the Torre de Salazar, situated on the outskirts of the town, on a hill that overlooks the sea. It's an Arabic construction from the 11th century, and was built as a coastal watchtower to defend against enemies attacking from the sea. The last stop is also on the outskirts, around 600m from the town centre. Here you'll find the Dolmen del Cerro de la Corona, a burial structure that dates from 3000-4000BC.
Pretty fountain in Totalan.
People who enjoying buying local arts and crafts can find cane and wicker products.
Since vineyards surround Totalan, the local wine and the grapes - in both fresh and dried form, as raisins - are two of the most typical aspects of the town's gastronomy. Some of the dishes you'll find are cazuela de arroz (rice with prawns and mussels), gazpacho (cold soup with olive oil, tomato, garlic, bread crumbs, water and vinegar), potaje de lentejas (lentil soup), puchero de garbanzos (chickpea stew), and chanfaina (stew made with fried potatoes, with a paste of oregano, cumin and vinegar). Some people like to add sausage, peppers or offal to compliment the last dish.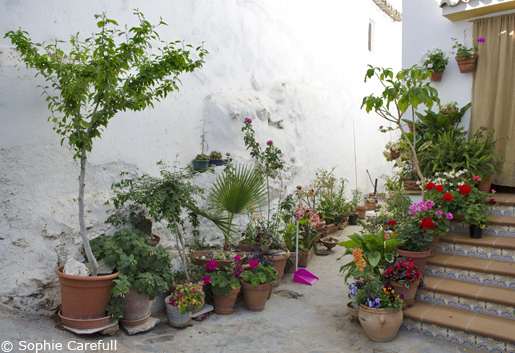 A delightful patio in Totalan.
In this town, the most celebrated feria, la Virgen del Rosario, takes place in the last week of May, and in the first week of October there is the Semana Cultural.
This town is located 22 km from the Malaga city and 56 km from Velez-Malaga (the capital of the comarca to which Totalán belongs).