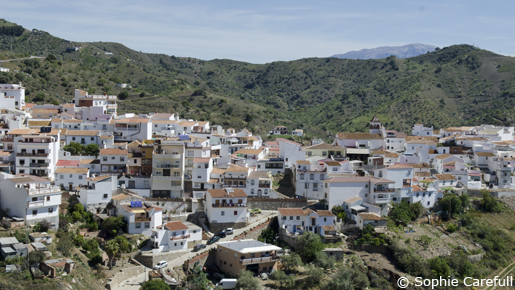 Moclinejo, in the Piedras Blancas hills.
The town of Moclinejo is set on a peak of the Piedras Blancas hills, between olive groves, almond groves and vineyards. The town is also the starting point of the Ruta de la Pasa (Raisin Route).
The town has strong Muslim origins, although the meaning of its name is not clear. It may have come about when inhabitants from Moclín, a town in Granada, moved to Moclinejo. The typical characteristics of an Arabic town are visible, with narrow, winding streets complemented with low white houses.
Plaza de España, located in the town centre, is a lively spot. The most interesting local building is the Iglesia Parroquial de Nuestra Señora de Gracia, constructed between the 16th and 17th centuries - you can see a mix of styles in its design, with Arabic arches and a modernist lattice grille in the choir.
Just outside the town centre you can find two interesting enclaves. The first is called Manchon de las Minas, where entrances to (rumoured) silver mines can be found. The second is known as Hoya de los Muertos, and features a gorge that was the scene of a bloody battle between the Christians and Moors in 1482; the latter won.
Food lovers will be able to enjoy traditional recipes like migas (breadcrumbs eaten with grapes, melon, oranges, olives and other country produce), ajoblanco (chilled garlic and almond soup served with raisins or peeled grapes), gazpacho, gazpachuelo (potato and fish soup) or a delicious solomillo a la pasa (pork fillet with raisins). All these dishes are made with traditionally manufactured olive oil from the area, and are best served with a glass of the regional wine.
For those who love local arts and crafts, as well as the raisins, wine and olive oil, you can find various objects made from wicker and iron.
The highlight of the traditional Moclinejo celebrations is in honour of town patron, the Fiestas de San Bartolomé, on 24 and 25 August. Midway through September the Fiesta de Viñeros takes place - as well as being able to try local products like wine and muscatel raisins, you can also take part in the traditional crushing of the grapes. On 25 December, the whole town celebrates the birth of Jesus Christ by firing shot guns, rifles or any firearm which makes a loud noise. During Semana Santa, the entire population takes part in recreating the life and death of Jesus Christ on Viernes Santo, while on Domingo de Resurrección the younger generation of the town steal their neighbours' plant pots to decorate the town's squares.
Moclinejo is located around 25 km from Malaga City.