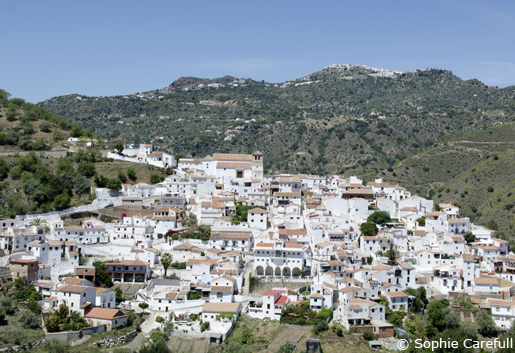 The white village of Cútar in La Axarquia.
Cutar
Cutar is a town on the Ruta de la Pasa (Raisin Route - DO Moscatel). It extends onto the northern slope of the Cutar hill and sits in beautiful landscape: hillside olive groves, vineyards and beautiful gardens on the banks of the rivers (the Cueva the river Cutar, the latter being a tributary of the former).
Some say that the town's name originates from the Arab word cautzar, or kautzar, meaning "the fountain of paradise", while others say that the name derives from the Arabic phrase "Hisn Aqut", which means Castle of Aqut, referring to a past fortification on whose grounds the town was built.
The layout of Cútar resembles other towns in the interior of the Axarquia comarca, with its narrow, sloped streets and low, whitewashed houses, as tradition would have it.
The Iglesia de Nuestra Señora de la Encarnación, whose tower pokes out through the tops of the houses and is the most noticeable monument of Cutar, is situated in the Barrio Alto area. The church was built in the 16th century and had a Mudejar style but, in the following centuries, it was modified with Baroque and Rococo elements.
In the Barrio de la Fuente (Fountain District), you'll find another of the town's key features: the Arab fountain, Fuente Aina Alcaharia. An unusual square white building with arched, brick-lined windows and door, it's the only monument that has been conserved perfectly from the Moorish era.
Evidence has been found that this area was populated up until the end of the Neolithic period at the Cerro de la Peña del Hierro archaeological site. Remains and documents found here date from the Neolithic period until the start of the Bronze Age.
The most typical local food is the puchero con garbanzos y chorizos (chickpea stew with meat) and the tortas de leche (milk cakes). Additionally, you can try the Axarquia regions local recipes like the ajoblanco (cold soup made with peeled almonds and served with grapes), the sopa de maimones (soup with garlic, salt, olive oil and served with a breadstick) or gazpacho (cold soup with peppers, cucumber, salt, vinegar, bread crumbs and garlic), as well as the area's delicious Muscat grapes and sweet wine.
There are two key dates to note in the town calendar: the Feria de Cútar midway through August and the Fiesta del Monfí at the beginning of October. During the Fiesta del Monfí, the town streets are converted into an Arab market with numerous stalls with a wide selection of medieval-themed culinary produce and crafts. During the fiesta, the residents of Cutar wear medieval-themed dress and many festive and cultural activities are held.
The town is situated 600m above sea level and is located 16km from Velez-Malaga and 32km from Malaga City.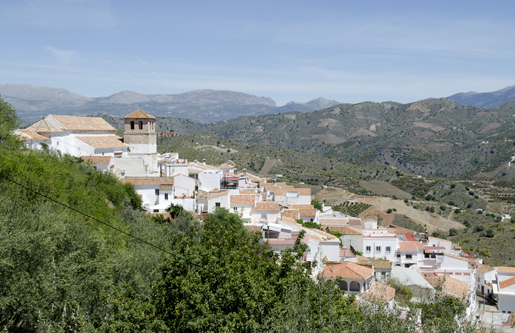 Iglesia de Nuestra Señora de la Encarnación, Cútar in La Axarquia.