Sayalonga
Sayalonga is part of the Axarquia comarca and is situated near the natural parks of the Sierras of Tejeda, Almijara and Alhama. It is also part of the Ruta del Sol y Del Vino, a route that passes through various towns of the comarca. As in the other white hill towns of the Axarquia, you'll notice Arabic influence here - the town is famous for its associations with El Cid and its nispera fruit (loquat - small, oval and yellow).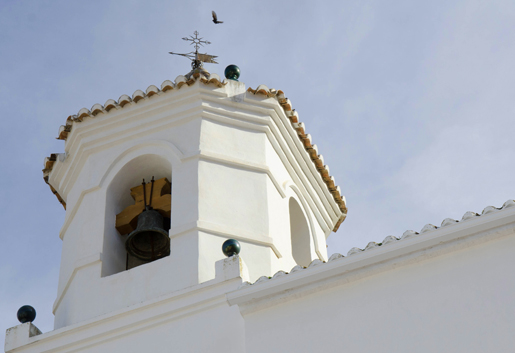 Santa Catalina Church in Sayalonga.
Things to See
From an architectural point of view Sayalonga offers various gems. The Iglesia de Santa Catalina is a 16th-century Mudejar structure at the highest point of the main street. The Cementerio Redondo (circular cemetery) is one of the most original of its kind in Spain, because of its circular form and dome-shaped niche. You can also see the Fuente del Cid (fountain), from where it's said that El Cid drank on one of his visits through these lands.
The Alminar de Corumbela, a 12th-century tower left from the old mosque of this small village next to Sayalonga, is used nowadays as the bell tower for San Pedro church.
countryside walks
Sayalonga offers three interesting routes for those with a passion for hiking: one goes past the Cajula river to the next-door village of Corumbela; another takes you for a historical journey through the town; and the last one goes to the Rabita, the highest peak of the town at 672m, which offers some superb panoramic views.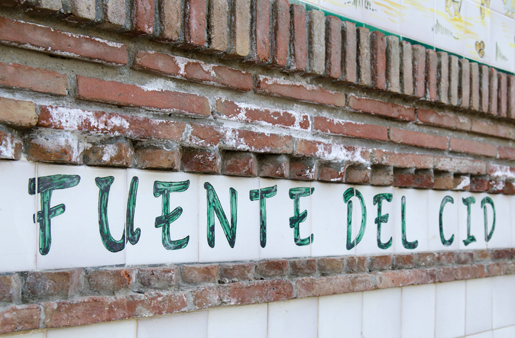 The Fuente del Cid is an example of the Mudejar style with its flat bricks.
Gastronomy
When sampling the local cuisine, you have to try sopa cachorreña (soup made with garlic, olive oil, green peppers and egg. To be eaten with bread and vinegar), a dish that seemingly got its name from a family who, in turn, got their name from the area they came from. You may also enjoy such dishes as the migas hechas con harina de trigo o pan (breadcrumbs) accompanied by arenques asados (grilled kippers), gazpacho campero (cold soup usually eaten with apples or olives), hinojo bread (fennel bread), ajoblanco (could soup made with mainly garlic and almonds), and, in Easter week, fried tortillas with syrup. All of this must be consumed whilst sipping the lovely Muscat wine, made locally in a traditional way.
Handicrafts
Typical products from Sayalonga are those made from esparto grass (Click here for information about Erosion Control Products produced in Sayalonga) and furniture made using oleander.
Festivals

Día del Níspero
In festival season, one of the most important fiestas of the town is the Día del Níspero, declared to be of national tourist interest. This takes place in May and, as well as enjoying the homegrown fruit, you can see theatre, performances and craft stalls.

Summer Feria
Other important dates are 29 June when Corumbela celebrates the day of its patron, Saint Pedro; the Fiestas de Verano (summer celebrations) in the second or third weekend of July (Corumbela's are in June);

Nuestra Señora del Rosario, the patron saint of Sayalonga, on 7 October.

Andalucia Day, 28 February, is also an important day in the town, and young people who will turn 18 during the year are presented with a gift from the Ayuntamiento.
Location
Sayalonga is located 12km from Velez-Malaga and around 44 km from Malaga city.