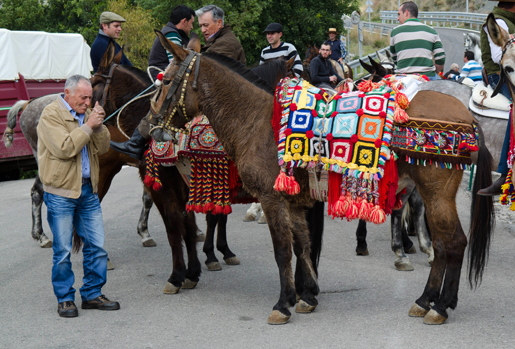 Horses and donkeys don bright colours for Fiesta de San Anton in Salares.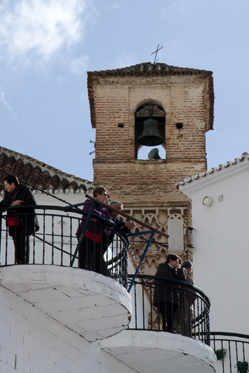 Locals watch the procession from Minaret tower.
Salares is part of the Ruta Mudejar in the Axarquia comarca; it is situated on the edge of the Tejeda National Park. It is one of many towns in the Axarquia which shows its Arabic heritage clearly, with steep, narrow streets; in some places steps have been added to replace dangerously uneven surfaces. Other Arabic features are the whitewashed house fronts, often decorated with tiles representing the different mysteries of the cross.
In previous centuries the Arabs, Phoenicians, Greeks and Romans populated these lands, as shown by various artefacts recovered from the area. Apart from the Arabs, the most visible influence is from the Romans, who called this area Salaria Bastitanorum because there was a salt deposit on the outskirts that was exploited by the Bastitanos, hence the modern-day name.
The most interesting buildings in Salares are the Iglesia de Santa Ana with its Mudejar-style minaret - a remainder from the ancient mosque and declared an artistic-historical national monument; the Casa Torreon which a few metres from the church; the Cerro del Puerto; and also its natural features like the Cueva de Siete Salas (the Cave with Seven Rooms) on the mountain known as Monte Chico.
Horse rider at Fiesta de San Anton 2014.
Looking at the local gastronomy, Salares has one flagship product: uva rome (Rome grape) - a black grape that grows in a tight cluster, from which an excellent wine with a very individual taste is produced. Also very typical is the rosco de naranja (orange and cinnamon cake), potaje de hinojos (fennel stew), migas (breadcrumbs served with grapes, melon, watermelon, oranges and olives) and gachas de harina con tropezones (traditional dessert consisting of a smooth paste served with honey, milk and sugar).
Fiestas in Salares include the Fiesta de San Antón in late January, traditionally celebrated by decorating horses that accompany the saint in his procession; on 26 June (Día de Santa Ana), the Feria de Salares celebrations take place with dancing, processions and fireworks. Lovers of Semana Sanata shouldn't miss out on Domingo de Resurrección, with a procession featuring a picture, decorated with coloured ribbons and flowers, displaying two-year-old baby Jesus. In September there's a traditional Moorish festival, Al-Sarq where all the townspeople don Arabic attire, and you can enjoy North African dancing and singing.
Salares, situated around 600m above sea level, is about 63km from Malaga city and about 39km from Velez-Malaga.