Starlite Festival - Marbella
The Starlite Festival is a month-long music and cultural event held in July / August at the Cantera de Nagüeles, in Marbella. It is now established as one of the important annual social and entertainment events in Spain.
Star-themed fashion at the Starlite Festival.
The stage is surrounded by 60 metre-high rock walls, which creates an interesting, intimate atmosphere, like a secret, hidden venue beneath the stars for the 2,200 guests. Access is slightly complicated, but worth the effort. Except for VIPs, cars need to be parked a mile away and minibuses shuttle guests up and down the hill.
The festival set is slightly different every year and has to be reconstructed each season. It is impressive, logistically, to appreciate that everything down to the last bottle of water, in this glamorous lounge and concert venue, has to be brought up the hill to the former quarry. In the main auditorium, VIP attendees sit in "Bubble Boxes" (eight-seater boxes) behind and elevated above the 15 rows of stalls and where waiters serve drinks during the concerts.
STARLITE FESTIVAL 2021
Starlite Festival 2021 will be held at the Cantera de Nagüeles, Marbella between 18th June and 30th July 2021. Bonnie Tyler and Tom Jones who postponed in 2020 have rescheduled, although Lionel Richie has postponed for 2022.
Due to the nature of the open air all-seated venue, with appropriate social distancing measures, the festival is able to continue as it did in Summer 2020. 
2021 Artists line up:
| Artists | Date |
| --- | --- |
| Ella Baila Sola | Fri 18th June 2021 |
| Miguel Ríos & The Black Betty Trio | Sat 19th June 2021 |
| La Oreja de Van Gogh | Fri 25th June 2021 |
| Beret | Sat 26th June 2021 |
| Sebastián Yatra | Fri 2nd July 2021 |
| Carlos Rivera | Sat 3rd July 2021 |
| Il Divo | Fri 9th July 2021 |
| Jose Luís Perales | Sat 10th July 2021 |
| Alan Parsons Live Project | Wed 14th July 2021 |
| Miriam Rodríguez & Cepeda | Thu 15th July 2021 |
| Maluma | Fri 16th July 2021 |
| Camilo | Sat 17th July 2021 |
| Camilo | Sun 18th July 2021 |
| Dvicio | Wed 21st July 2021 |
| Aitana | Thur 22nd July 2021 |
| Irina Kolesnikova | Fri 23rd July 2021 |
| Miguel Bosé | Sat 24th July 2021 |
| Pablo López | Mon 26th July 2021 |
| Ozuna | Thu 29th July 2021 |
| El Último Aplauso | Fri 30th July 2021 |
| Simple Minds | Sat 31st July 2021 |
| Morat | Mon 2nd August 2021 |
| Rosario | Wed 4th August 2021 |
| Raphael | Thu 5th August 2021 |
| Passenger | Fri 6th August 2021 |
| Dos Tontos y Yo | Sat 7th August 2021 |
| Estrella Morente & José Mercé | Mon 9th August 2021 |
| Taburete | Tue 10th August 2021 |
| Nil Moliner, Dani Fernández & Pol Granch | Wed 11th August 2021 |
| Nathy Peluso | Thu 12th August 2021 |
| Tomatito | Fri 13th August 2021 |
| Bonnie Tyler | Sat 14th August 2021 |
| Tom Jones | Mon 16th August 2021 |
| Estopa | Thu 19th August 2021 |
| Orozco | Fri 20th August 2021 |
| Antonio José | Sat 21st August 2021 |
| David Bisbal | Mon 23rd August 2021 |
| Raphael | Wed 25th August 2021 |
| Rozalén | Thu 26th August 2021 |
| Ara Malikian | Sat 28th August 2021 |
| Siempre Así | Mon 30th August 2021 |
History
The first use of the former quarry site, situated above Marbella, was in 1983. Alfonso Hohenlohe, who founded the Marbella Club Hotel, and singers Julio Iglesias and Plácido Domingo, decided to create the Auditorio de Marbella open-air auditorium, and to found an internationally-renowned music festival. They held a successful Tenors concert, however the annual festival didn't happen, and the venue was left abandoned for nearly 30 years. In 2012 the quarry site was cleaned up and a new auditorium constructed for the inaugural Starlite Festival. I has been held annually since and grown to become on of Spain's leading music festivals. Over the years Enrique Iglesias, Elton John, Lenny Kravitz, Lionel Richie, Andrea Bocelli, Ricky Martin, Tom Jones, Pet Shop Boys, Alejandro Sanz, Eros Ramazzotti, Luis Fonsi, Plácido Domingo and Anastacia have all played. The 2017 edition was overshadowed by a  late license dispute with the Marbella town Hall, and 'Marbella' was removed from the Starlite Festival name and logo. Due to the nature of the open air all-seated venue the festival was able to continue in Summer 2020 and 2021 albeit with few international performers.
A parallel event, the Starlite Gala, a star-studded charity concert and dinner which started in 2010, usually takes place on second Saturday in August, and is led by Antonio Banderas.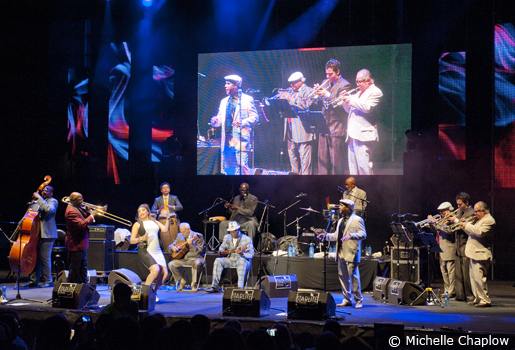 Starlight Lounge
The impressive lounge has a mix of general seating and several drinks brand-sponsored cocktail bar areas serving pre-concert drinks. The Starlite Lounge opens at 20.00, and the carefully-designed lighting comes into maximum effect as the sun sets. Entrance before midnight is free.
On concert nights, this area fills quickly to standing room only until the concert starts at 22.30. There are several outlets, bars and other stalls selling sweets and costume jewelry, this has increased to 21 stands is now called Starlight shopping. Access to Starlight Lounge is free from 20:00 to 24:00, except the nights when named artists are performing on the lounge stage.
The Starlite Festival has also included fashion shows, open-air film premier's, art exhibitions and nightclub events on nights when there is no concert. A number of smaller (and not too expensive) food stalls have also been added under the auditorium. The lounge has come a long way since 2012 when the catering was out of shipping containers, albeit chicly decorated ones. There has been less focus on the parallel events since 2017.
Starlight SESIONS 
Starlight Sesions (called Starlight Nights in 2017 and prior to 2016 called Starlite Disco) starts in the lounge area at 22.30. Entrance was free before 24:00, 12€ from 24:00 to 03:00, and 20€ after 03:00 and included one drink. Entrance is free to those exiting the concert shortly after midnight; stopping at the disco is encouraged to disperse the 'rush hour' queue for the buses back down the hill to the car parking area. The lounge can be a good place to meet up with friends who have been to the concert. The Starlight Seshions (Nights) has its own headline events, fashion shows and top DJs. Starlite Nights closes at 06.00. All this information about Starlite Sesions (Nights) is from 2016, since mention was removed from the website in 2017.
Starlight Auditorium Concerts
The 'Under the Stars' auditorium is divided into three areas: the Stalls (plateas), the Boxes (palcos) and the Podium (tribunas) which used to be called Granstand. Each of these is sub-divided; the stalls have a Super Premium area (centre front), Premium (centre), Stalls (centre/side) and Side Stalls (sides), and the boxes have Platinum, Starlite (was Gold) and Silver, and in the rear Podium or grandstand there are Podium Club (front row centre), Podium A (front), Podium B (centre) and Podium C (back).
STARLIGHT RESTAURANTS
In 2018 the unbranded restaurant featured a gourmet market concept. Previous years reatured up to four different restaurants, one in each of the VIP areas around the Starlite Lounge, and each giving access to the VIP area of the same name for the five persons dining.  Table reservation vary in price according to the night but range from 250€ to 3500€.
In 2017  LE CLUB tables were the most exclusive, LE PRIVEE was placed above the stage and dancing floor, LE PLUS was located on the other side of the stage, and LA RESERVE was a larger elevated area with best views of the entire ensemble.    In earlier previous years the restaurants were run by famous restaurateurs such as MIL LUNAS BY MILLESIME (2015 & 2016) or Danni Garcia.
VIP AREAS
There were VIP areas adjoining the lounge. In 2015 they were called  LE PRIVEE, is the liveliest VIP area and where the celebrities tend to go. Tables can be reserved for 4-6 people with a minimum consumption of 150€. Le Club is the most exclusive VIP zone and it where the clients of the concert boxes meet after the concert. Tables can be reserved for 4 persons with a 225€ minimum consumption. In 2016 Le Club was called The Stage where one could share the space with the DJs on the moonbeds (no sunshade  needed.)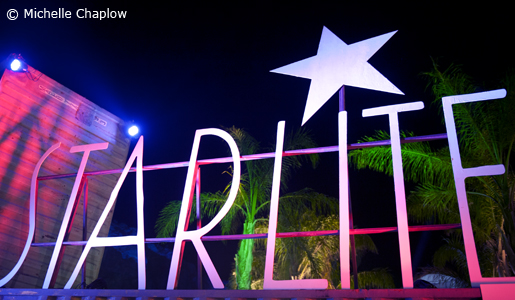 ACCESS AND PARKING<
From centre of Marbella, at Plaza Bocanegra near the Palacio de Congresos (Exhibition Centre), take Avenida Don Jaime de Mora, cross the motorway and turn into Avenida Buchinger, which becomes Avenida Albinoni. Keep going up, following the other cars, and look out for Starlight signs. On reaching the checkpoint you will be directed left into an unmade car park - the VIP area is first, and then the public car park. Don't wear your best shoes and have your mobile phone light or a torch ready, as you'll need them when you return to the unlit car park. Here is the location map of the car park that you have to drive to.
After parking the car, walk back (gently uphill) to the AstroTurf corridor entrance where a fleet of minibuses ferry the visitors one mile up the steep hill to about 50 steps which you have to climb to reach the Starlight entrance. There is a VIP car park near the venue and this is only available to those with Gold and Silver box for the concerts or a table in the restaurant or lounge.  The entrance area is much enlarged and improved since the early years.  Valet parking is for Platinum box ticket holders. After midnight (Starlite Night guests), valet parking is available for 10€ which saves you getting the bus. Pay cash, card or online.
BUS SERVICE
Since 2016 Starlite have provided a free shuttle bus service from Marbella. The bus is from Marbella Alameda, Farmacia Berdaguer, Edificio Portillo,  Porcelanosa near Plaza Bocanegra to Starlite. It runs about every half hour from 22.30 hrs to 05.30 hrs.   
All this sounds complicated to first-timers, but once in the venue you will see it was worth the effort.
Destinations