Turón is a mountain village where visitors can enjoy rich gastronomy as well as cultural activities, and spectacular scenery.
The origins of the village are in the Roman era; however, Neolithic tombs and stone axe-heads have also been discovered here. There are also some lead mines which have been abandoned since Roman times, when Turon was on the Via Herculea.
The village centre has preserved its original style, with steep, narrow streets adapted to the uneven terrain, lined with whitewashed houses whose balconies are full of flowers.
The two main monuments in Turón are both churches: la Ermita de San Marcos and la Iglesia Parroquial de la Encarnación, which was destroyed in the Civil War and rebuilt.
The village is located on the border with Almeria province and is set among some amazing landscapes popular for hiking and climbing. Its rich ecosystem hosts various animal species, making the area a popular destination for hunting wild boar and mountain goats.
One of the most important skills conserved in Turón is its traditional crafts. Esparto grass products are the main export, although you may find old women in the village who still crochet beautiful bedspreads and tablecloths.
Gastronomy
The most famous dish, known throughout all of Granada province, is the pan de higo (fig bread) which accompanies dishes of game, almonds and cold meats.
Fiestas
Patron saints' festivals in honour of San Marcos and la Santísima Virgen del Rosario take place in April. In June, to celebrate the San Juan festival, bonfires are lit and in August, there is a pilgrimage to the sanctuary.
Directions
Turón is 160km from Granada city. Take the A-44 (direction Motril), pass this village and take the A-7, followed by the N-340 until the turning for the A-347.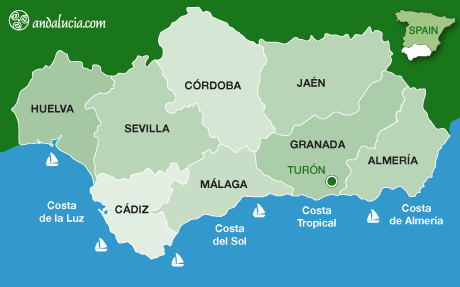 Destinations