Torvizcón is the largest town in the Contraviesa, the part of the Alpujarras between the Sierra Nevada and the sea. The village's traditional whitewashed houses are silhouetted against the Sierra Nevada, and from anywhere on the outskirts visitors can enjoy amazing views, including over the Guadalfeo river.
As in many villages in the area, the most important monument in Torvizcón is the church, dedicated to la Virgen del Rosario. A Mudejar style building, it dates from the 16th century and inside you can see a multicoloured sculpture/carving from the 18th century. The fountain known as El Pilón is also of interest to visitors, found in the plaza of the village and dating from the 18th century.
Another building visitors shouldn't miss is the Museo de Esparto Agustín Góngora, located at calle Arroyo Pozo 7. Here you can see life-sized human and animal figures which have been made by the museum's owner and curator. The interesting thing about these works is that they're made of esparto grass. Also exhibited in the museum is a collection of objects relating to everyday life in the village and countryside tasks. Many of these popular local products can be bought in the village.
Gastronomy
The most famous delicacy here is the renowned pan de higo (fig bread), although the village is also famous for its almonds and wine (the Moors exported currants and sultanas from here all over the world). Visitors can also try other tasty dishes including migas (a dish made with breadcrumbs, garlic, olive oil and other ingredients), choto al colorín (kid with wine, garlic, peppers and olive oil), puchero de hinojos (fennel stew) and fritadilla de cordero (a pork stew). All of these dishes should be eaten accompanied by Contraviesa wine, whose denominación de orígen is Costa. These wines are young and fruity, and are often made in family-run bodegas.
FIESTAS
The most exciting festival in Torvizcón takes place in January: Fiesta del Marranillo de San Antón. During the previous months, a pig wearing a red ribbon around its neck walks through the village. All the residents must give the pig something to eat so that when Día de San Antón (the matanza – killing - day) arrives, it will be good and fat. Typical bonfires are burnt in honour of the Saint, with residents roasting bacon and pork.
Other events take place across the year. In October, residents celebrate Fiesta del Virgen del Rosario; in April, Fiesta de San Marcos with traditional hornazos (baked goods) during a day in the countryside; and as in other villages of Andalucía, Domingo de Resurrección is celebrated with the burning of Judas mannequins.
Directions
Torvizcón is 80km from Granada city. Take the A-44 (direction Armilla-Motril) and join with the N-323, and then the A-346 followed by the A-348.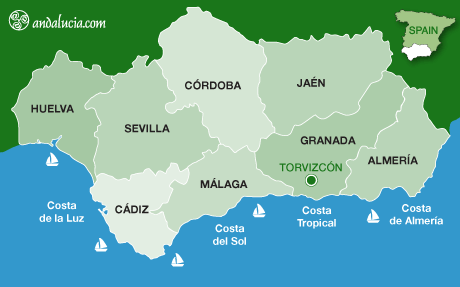 Destinations