Lobras
Written by Marta Palomo Hermoso, Translated by Emma Cattle and Fiona Flores Watson
Lobras is a small village with its distinctive own personality. It feels as if time has stood still when you walk along its streets and visit its monuments. The location also means that visitors can enjoy tranquil landscapes and amazing natural beauty.
The origins of the village go back to the centuries of Islamic occupation, and remains have been found of various wells and a Mozarabic fortress dating from this time.
Tímar is a small hamlet belonging to this municipality, which has also conserved some important historical items - in particular, the old mercury mines. There are also various irrigation ditches and paths where you can take a walk.
Important monuments include the parish churches of Santo Cristo de la Ascensión and San Agustín.
To complete your visit to Lobras, why not try one of the hiking routes: towards Tímar, the irrigation channel path, to Juviles, la Ruta de los Barrancos, the mercury mines, Lobrazán and the Tímar ravine.
The local craft is ceramics, and you'll find these traditionally-made products all around the village.
Things to see
Centro de Interpretación de la Música "LOMBARDA"
Whilst in the village you can visit the Lombrada museum of folk instruments, or Centro de Interpretación de la Música "LOMBARDA", which exhibits a variety of unique instruments from across the world, made from materials that range from glass bottles to animal hide.
The museum itself and its special collection were set up by the Moreno brothers Javier and Sixto, founders of the well-known LOMBARDA folk group from Granada, to explain the origins of music across the world. It includes the "Instrumentos del viaje de Lua" (Lua´s travels) exhibition. It is a charming spot for musicians, historians and children. Location Plaza de la Iglesia s/n. Click the video above for more of an insight. 
GASTRONOMY
 The village gastronomy is heavily influenced by its home-grown products: extra-virgin olive oil, almonds and corn. The star dish on Lobras menus is fritadilla, made with lamb or pork, roasted green peppers, aubergines and oil. Another speciality here is flores de calabaza, an old dessert that you won't find anywhere else.
FIESTAS
The patron saints' days are celebrated in August, however Christmas Day is probably the most important fiesta in Lobras. On this day, an image of Jesus forms part of a procession around the town.
DIRECTIONS
Lobras is 92km from Granada city. Take the A-44 followed by the A-348, and finally the GR-9027.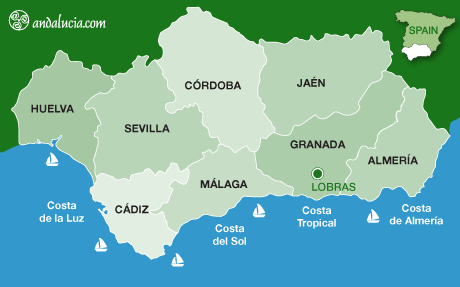 Destinations