Laroles
Translated by Emma Cattle and Fiona Flores Watson
Laroles is the largest of four villages that make up the municipal district of <a href="/province/granada/nevada/home.htm">Nevada</a>.
It sits in between the rivers Bayárcal and La Ragua and is surrounded by lush chestnut groves. Within its village centre, the two churches are of interest to visitors. La Ermita de San Antón y San Sebastián was constructed in the 18th century and la Iglesia Parroquial de Nuestra Señora del Rosario in the mid-16th, however it was later reconstructed in the 19th century.  This church has a brick tower topped by a Byzantine dome. A fountain crowned with the Virgen de la Inmaculada is also worth seeing, and it attracts thousands of people per year.
The village is the starting point for the A-337 road which is the only road to cross the Sierra Nevada Mountain range by crossing the 'Puerto de la Ragua'.
Me Vuelves Lorca
In 2015 a group of local theatre lovers formed an association and built a boutique theatre, whose stage is an old wheat-threshing circle, with hand-carved stone seating built into the hillside. The first summer season was 2015. The outdoor theatre has views across the Alpjuarra mountains. Named Un Teatro Entre Todos (a theatre between us all) is one of the most spectacularly located theatres in Spain; it seats 250. Read our blog post from 2015   Laroles Theatre festival takes place every summer from mid-July to mid August. 
Hotels in and around Laroles
Book Hotels in Laroles
FIESTAS
In January, Laroles celebrates the Fiestas de San Sebastián y San Antonio Abad. Festivities take place over three days and include street bands, a performance of the Moorish and Christians, concerts and fireworks. In Picena, between the end of January and the start of February, the Fiestas de la Candelaria y San Cecilio take place, also known as Fiestas de Invierno.
DIRECTIONS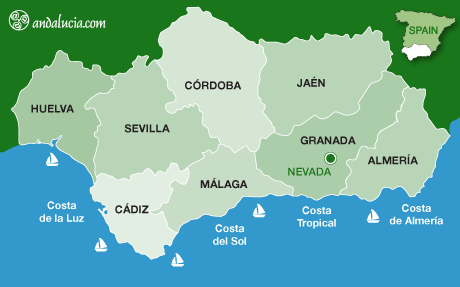 Destinations