[caption id="attachment_13404" align="aligncenter" width="578" caption= "Anna Kemp, director of the Open Air Theatre Project in Laroles, on the threshing-floor stage."]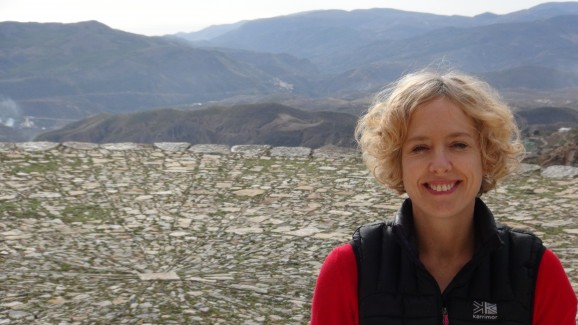 [/caption] [caption id="attachment_13370" align="aligncenter" width="578" caption= "An idyllic setting for the theatre: olive and almond groves, backed by snow-capped mountains."]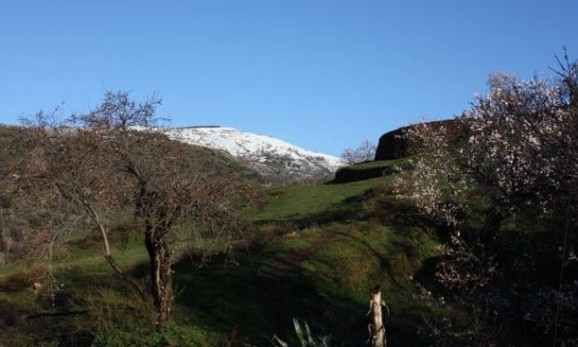 [/caption] During my ten-plus years in Spain, I have met a large number of fellow expats - some working for foreign companies, along with their "trailing spouses" (who are/were here because of their partners' jobs); many, many English teachers; some yoga teachers; several media types; and a few inspiring, highly-motivated entrepreneurs in various fields: travel, property, technology and food. One person from this impressive last group whose project stands out for its sheer creativity and vision, is Anna Kemp, founder and director of the Open Air Theatre in the Alpujarras, known as Un Teatro Entre Todos (which translates as "a theatre for all to use/in the midst of everyone"). Anna is a dynamic English script supervisor who has lived in Spain for 20 years. Her plan is to build a theatre on a hillside just outside the remote mountain village where she lives part of the time,
Laroles
, in Granada province. Sounds mad? Perhaps, but there's method in her madness - as Anna explains in one of her introductory videos, times are challenging in rural Spain, with many young people leaving their villages for the big cities, and she's looking for a way to entice the next generation to stay, thereby keeping their communities alive. Anna fell in love with the area when she was filming
Al Sur de Granada
, based on the book
South from Granada
, by
Gerald Brenan
. [caption id="attachment_13357" align="aligncenter" width="403" caption= "The hand-made stone seats of the open-air theatre in Laroles."]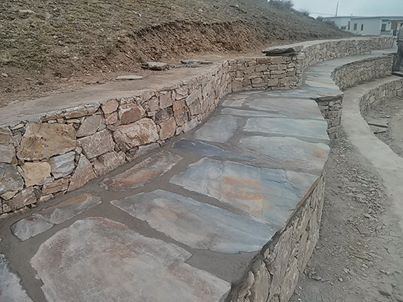 [/caption] Anna's project started in 2013, and the theatre now has five curved rows of stone seating, following the contours of the hillside, hand-built by local artesans using traditional methods, as well as walls, all using recycled materials from the area. The theatre is based around three old cobbled
eras
(corn-threshing circles), the lowest of which they uncovered and restored thanks to a grant from the Junta de Andalucia; it will be the stage. The plan is to have 300 seats, with 150 already funded by the village's mayor. The threshing floors are terraced into the mountainside, and form an integral part of the village's socio-agricultural history, and so lend themselves perfectly to an inclusive activity such as theatre with its story-telling and music. The view itelf is astonishing - what a spectacular backdrop for a theatre - Anna was inspired by the famous Minack Theatre in Cornwall, which is built into the cliffside overlooking the sea. [caption id="attachment_13369" align="aligncenter" width="547" caption= "This traditional corn-threshing floor was restored for the project - it had been buried under earth for years. What a fabuous view!"]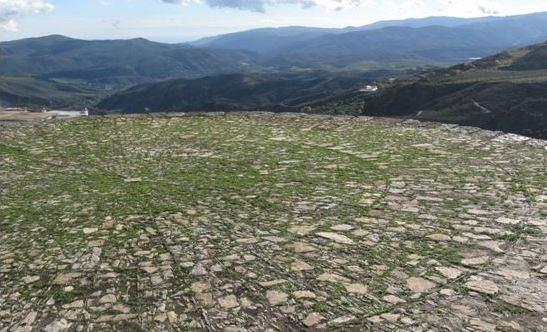 [/caption] The theatre is scheduled to be finished by this August, with the first performances that month. Check out the website at
Un Teatro Entre Todos
, while the Facebook page has daily updates with videos showing the progress of the theatre's construction - Social Media at its most effective. Many villagers are involved with this bold and ambitious project, which has the full support of the village's mayor. "The response from the local community has been amazing. The older generations are thrilled to see the threshing circle brought back to life and I think the younger people see the opportunites the theatre will bring them," Anna tells me. Anna has just launched a
crowdfunding campaign
, which has already raised 2,500 euros - out of an eventual target of 60,000 euros - in two weeks; she needs 10,000 euros to finish building the theatre, which seems an incredibly small amount. The plan is to have a cafe-bar to complete the venue, with a festival scheduled in 2015. Ingeniously, Anna is targetting celebrities with a connection to the project, and Russell Crowe (
Gladiator
- amphitheatre) has already responded. The Open Air Theatre will be a superb new attraction for the area, an organic structure which blends in naturally with its surroundings, pulling in visitors, benefiting the local economy, providing a valuable cultural resource, and bringing a fresh lease of life to a very beautiful but little-known area of Andalucia.