Yegen
A village of population about 400 located in the eastern part of the Alpujarras of Granada. In 1973 the village of Yegen fused with Mecina Bombarón, El Golco and La cortijada de Montenegro to form the municipal district of Alpujarra de la Sierra.
The British writer Gerald Brenan immortalised Yegen in his book South from Granada, published in 1957. Today, you can see his former house, marked by a plaque, just off the main square, while there are reminders of his life in the village scattered all over Yegen, such as a road named after him and photos in the Town hall and various bars.
Hotels in and around Yegen
Book Hotels in Yegen
Apartments in and around Yegen
Book Apartments in Yegen
Thuings to See
Fonda-Museo de Gerald Brenan
A small museum dedicated to Gerrald Brennan. The building is the former village inn known as Pensión ´Manuel Juliana´ where Brennan stayed in 1920 before finding a house. He stayed again in 1974 when he returned to the village Alfredo Amestoy Eguiguren who was making a documentary of Brennan called 'Agua Pasada'. The pension closed in the mid 1980s and Yegan Town Hall purchased the building in 2009. Open Monday to Friday from 16.00 to 18.00 hours.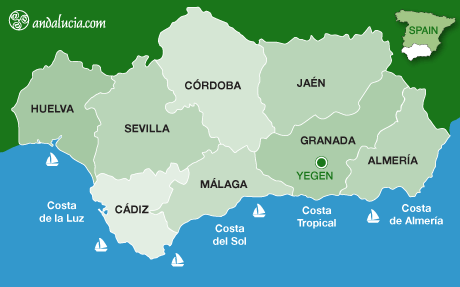 Destinations