Orgiva
In the fertile valley of the Guadalfeo river is the largest town of the western Alpujarras, Órgiva. At 450m, Órgiva has a milder climate than many other places in the Alpujarras and is surrounded by olive, lemon and orange groves.
Chris Stewart of Driving Over Lemons fame lives in the vicinity and his books have done much for the local tourist industry and for attracting more northern Europeans – mostly from Great Britain – to settle in the area. At the last count, foreign residents from EU countries outside of Spain numbered around a tenth of the town′s 5,000-strong population.
Órgiva has a somewhat bohemian atmosphere since it is also a magnet for those seeking an alternative lifestyle; a well-established settlement of teepees is on the outskirts of town, while at the town′s weekly market a whole variety of New Age goods are on sale.
Bars are plentiful along the main street and many have outdoor tables. Just off this street is the Baroque 16th-century church, with an impressive altarpiece and an image of Christ considered to be the work of the renowned religious sculptor Juan Martínez Montañés.
Órgiva has many accommodation possibilities, with the tranquil Hotel Tarary being perhaps the best choice, 1km south of town (958 784 525). As well as a beautiful swimming pool and extensive gardens, its restaurant uses the hotel′s own farm produce. There is a campsite 1km outside the town on the A348 with an excellent restaurant and weekly live music. It also rents bungalows and cabins.
For tourist information, contact the ayuntamiento (town hall), 956 785 212.
Its main fiestas are San Sebastián on 20 January and the Feria Grande at the end of September and beginning of October.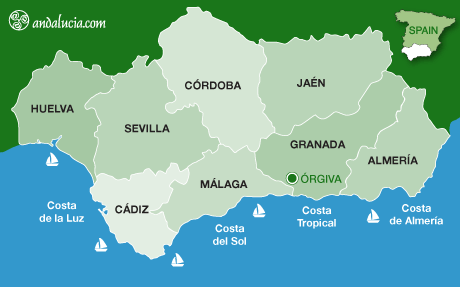 Destinations