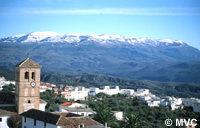 Beautiful Alpujarran village of Valor
Válor
The village's Moros y los Cristianos, a popular festival dating from the 16th century, is one of the most famous in Spain. As one of the last regio ns to harbour the Moors, the Alpujarras is one of the best places to watch these pageants, the other villages here being Trevélez and Pampaneira.
The staging of the colourful re-enactment of the battle between the Moors and the Christians, the Moros y los Cristianos, is held as part of the village's Fiestas Patronales on 14-15 September, which coincide with celebrations dedicated to Santo Cristo de la Yedra, the patron of the Alpujarras.
Hotels in and around Valor
Book Hotels in Valor

Hostal Las Perdices
Hostal Las Perdices is located in the heart of La Alpujarra Region. It offers free Wi-Fi in public areas and rooms with private bathroom. Free luggage storage and tourist information are provided. The swimming pool, located 300 metres away, can be used for free.
Holiday rentals in and around Valor
Book Holiday Rentals in Valor
The notorious Morisco rebel Aben Humeya (aka Hernando de Córdoba y Válor), leader of the 1568 revolt against the Christians, was born in the village in the Casa Palacio de Aben Humeya, and Válor was an outpost of Moorish resistance to the increasingly powerful Catholics. Internal differences weakened the Moriscos and they were expelled in 1609, when the village was repopulated with Christians from Jaen province.
Like many other Alpujarran villages, Válor has a 16th-century Mudéjar church, which has an artesanado coffered ceiling and a Baroque image of Cristo de la Yedra.
There are several attractive and well-signposted walks starting from the village. A circular walk called the Sendero de los Castaños, leads as its name suggests through woodland of sweet chestnuts along the Válor river. The circular Sendero de los Aguas runs along part of the GR7 long-distance footpath that crosses Spain. Sendero Local de la Launa starts at the roman bridge, the Puente de la Tableta, and passes through almond, olive and chestnut groves.
Destinations