ALPUJARRA DE LA SIERRA
The village of Alpujarra de la Sierra is a must-see destination for students of the life and work of Gerald Brenan. The Hispanics writer originally from England, lived in the Yegen area of the village for more than 10 years. The beautiful surroundings and traditional architecture have made it an attractive destination for rural tourism enthusiasts and lovers of sports such as hiking, mountain biking and horse riding.
The most important area of the village is Mecina Bombarón, located at the back of the highest point in the Peninsular. Interesting areas to visit include the river which gives it its name, and la Cascada Las Chorreas in the Sierra de Mecina. From an architectural point of view, the Casa Grande or Casa de Aben Aboo is worth seeing as is la Iglesia de San Miguel Arcángel. This church was constructed halfway through the 18th century. El Puente Romano, (the Roman Bridge) located underneath the modern bridge, was the bridge that united Almería with Granada. Art and photography enthusiasts should visit the Museo de Fotografíá (Museum of Photography) which holds more than 600 pictures: all featuring typical alpujarreña culture.
The famous area Yegen is where Gerald Brenan, the writer of the well known work Al Sur de Granada lived. It is located on a gentle slope with magnificent views over la Sierra de Lújar and la Contraviesa – you might even see the sea on a clear day. Visit la Casa de Gerald Brenan, also known as la Casa del Inglés (the Englishman's house), now a museum dedicated to his work. La Iglesia parroquial del Dulce Nombre del Niños Jesús was an old mosque; it still possesses a beautiful coffered ceiling from the 16th century. The remains of the Castillo de Piedra Fuerte, a castle from the Caliphate era are also worth a look. El Lavadero la Carmellota is located in the lowest part of the village centre as well as numerous fountains like those of la Plaza de la Iglesia or La Panadería Vieja. You could also visit the Museo de Fotografía, which exhibits photos taken by a Dane in the village between 1959 and 1989.
Under Mecina Bombarón is the area of El Golco, home to one of the oldest churches in the area - Nuestra Señora de Araceli. Built in the 16th century, it has been well conserved. In the Cortijada de Montenegro area, a small neighbourhood formed by various estates, you should visit la Ermita de la Virgen de Fátima and El Salto del Gitano. Here you'll find water sources and stone fireplaces to prepare food.
Those who enjoy crafts can purchase typical wooden items made in the traditional Moorish manner, which has been conserved over the years in many villages in Granada. You can also find local ceramics, wicker and grass products and leather goods.
GASTRONOMY
The most traditional dishes from this village include migas de Alarcón, (a dish made with breadcrumbs, garlic, olive oil, chorizo and melon); potaje de castañas, (chestnut stew); la olla de hinojos, (fennel stew); el guisaillo matancero, (a type of stew made with meat and potatoes) and gachas de ajo quemao/de caldo colorao, (a dish made with wheat flour and burnt garlic/coloured stock).
Visitors can also sample different sweets and desserts with a Morisco influence.
FIESTAS
In Mecina Bombarón, residents celebrate la Fiesta de la Castaña at the end of October. In Yegen, in January, residents celebrate the patron saints days. Typical events include the traditional running of the ribbon with horses and donkeys, the Niño procession and evening celebrations. During la Feria de la Castaña there are demonstrations of local trades and a ttraditional dinner, residents also travel the routes to the best chestnut trees which surround the village centre of Mecina.
DIRECTIONS
Alpujarra de la Sierra is 108km from Granada city. Take the A-348 Lanjarón, joining with the C-332, which takes you directly to Mecina Bombarón.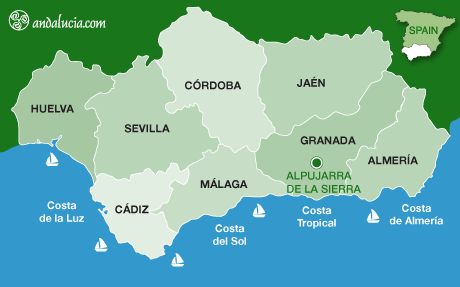 Destination tags