Visitors looking for tranquillity and the opportunity to spend a few days relaxing will find Carataunas the perfect destination. It is the smallest village in the whole of the Alpujarra region; but its 5km² of land is full of charm.
It´s history is based in the Arabic dynasty; there are the remains of a cemetery called Macabé still preserved in the village. In the centre, the parish church Nuestra Señora de la Paz, contains paintings of great value believed to be the work of Alonso Cano. Also worth visiting is the stately home "Corps", which was commissioned by Isabel II.
Carataunas is, due to its geographical and physical location, the perfect place to enjoy rural tourism, as well as walks around the area.
There still exists today in Carataunas, a craft which began in the 16th century; these are Fajalauza ceramic products, so called after the neighbourhood in which they were first produced: Fajalauza. They can be distinguished by their multicoloured ceramics, with a white bottom, decorated in tones of blue and green.
GASTRONOMY
If you want to try the typical dishes of Carataunas, look no further than local embutidos (sausages), jamón (ham) and puchero de hinojos (fennel stew).
FIESTAS
The patron saints days are in honour of la Virgen de la Paz, who features in the procession in August. Also important is a modern tradition named "Los Mundiales", a day where there are clay pigeon shooting contests with eggs, along with crème caramel and milk.
DIRECTIONS
Carataunas is 60km from Granada city. Take the A-44 (direction Lanjarón) and once you pass this village, take the A-348 and then the GR-421.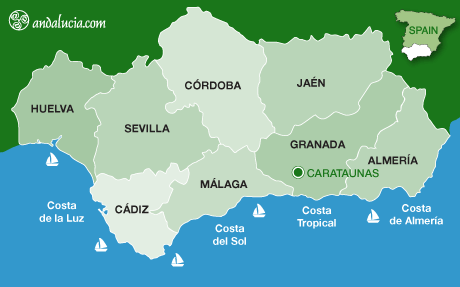 Destinations