Cádiar is a completely mountainous village that has preserved it´s Morisco feel and character. It was formed by three neighbourhoods: Cádiar, Narila and Yátor, and is situated between Sierra Nevada and Sierra de la Contraviesa. There were some extremely valuable archaeological remains found in the village, including pieces of ceramics from the medieval era.
In the village centre there are various monuments worth visiting, including las ermitas de San Blas, San Sebastián and Santa Rita. The iglesias parroquiales are also worth seeing, built at the turn of the 16th century.
In Narila, there is a church which was commissioned by Juana La Loca and Felipe Hermoso, it is of Moorish style and has a 15th century tower, which has been well preserved. An old flour mill El Molino de Enmedio was constructed in the 16th century and has been extremely well looked-after over the years. It is open for visitors and worth taking a look around.
The Valle de Sensaciones (a nature project) and many geological formations such as gullies and watercourses complete the list of interesting places to go in Cádiar. 3km from the centre of the area is one of the best spots to enjoy rural tourism: the La Alquería de Morayma complex. Buildings here are constructed in the style of the old Andalusian farmhouses and offer accommodation, restaurant facilities and a winery.
Hikers can also take small routes around the area, PR-25 Cádiar-Mecina and PR-32 La Contraviesa for example.
Local crafts are of great importance here in Cádiar. Specialties include ceramics, items made from esparto grass and forged products, and there are many shops where you can purchase these.
Hotels in and around Cádiar
Book Hotels in Cádiar
GASTRONOMY
In Cádiar, guisos (casseroles) and carnes a la brasa (charcoal grilled meats) are the most characteristic dishes usually found on menus.
Desserts are heavily influenced by the Morisco culture and many recipes still survive from that time. Another speciality is wine, which you can find in la Bodega Barranco Oscuro, these vineyards are the highest in Europe.
FIESTAS
The patron saints days are celebrated in each of the three neighbourhoods, and during la festividad de la Virgen de la Candelaria, residents make bonfires in the street.
DIRECTIONS
Cádiar is 98km from Granada city. Take the A-44 (direction Motril) and then the A-348.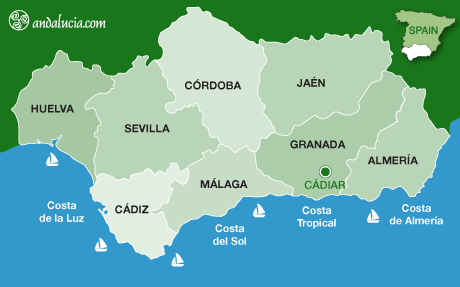 Destinations