Busquistar
Busquístar is located in a privileged natural environment, next to the ravine formed by the Trévelez River and inside the Sierra Nevada national park. It was previously known as el paraíso escondido de los mozárabes (the hidden paradise of the Mozarabic).
The exact origins of this village are not known, but evidence shows that is could be as early as the 13th century. As a result, there are many remains and influences of the Arab dynasty in this area for example: an old mosque and an oil mill, although only the ruins are left. La Iglesia Parroquial de San Felipe y San Santiago however, survives, although it has been through several restorations.
Outside of the village centre, visitors will find an ideal location for hiking or adventure sports, 4x4 routes and mountain climbing.
In Busquístar, ceramics are the typical produce, made by hand. Workshops exist here with potters who have worked in the trade for years; visitors can attend and create their own ceramic souvenirs.
Hotels in and around Busquístar
Book Hotels in Busquístar
GASTRONOMY
There is one dish in Busquístar that visitors cannot miss out on: asadura encebollada (offal with onion). This recipe can be served with sopa de pimiento tostado (toasted pepper soup), las migas (a dish made with breadcrumbs, garlic and olive oil) or el puchero de hinojos (fennel stew).
FIESTAS
Busquístar's most important fiestas are in honour of its patron saints, San Felipe, Santiago and la Virgen de los Dolores. The first two take place in May and the latter in September. Another feria characteristic of the Alpujarra region is entierro de la zorra (burial of the fox), this is celebrated by burying a fake fox, representing the sins and bad feelings of the residents, that are buried with it.
DIRECTIONS
Busquístar is 77k from Granada city. Take the A-44 (direction Lanjarón), then the A-348 and finally switching to the GR-421.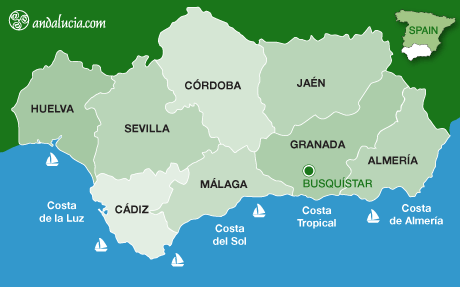 Destinations