Vélez de Benaudalla
This village is well-known by climbers, as it has some of the best spots to practice this sport. One example is the Garganta de los Vados, in the Guadalfeo river gorge. Nature lovers will also find places such as the Toba river valley, which separates the sierras of Chaparral and Los Guájares.
Vélez de Benaudalla is a beautiful village set in a stunning natural environment, making the area a popular destination for climbers and hikers alike. After a day of adventure retire to the local… More →
Walking through the streets of Vélez de Benaudalla, visitors should stop for a look around the Museo de Aceite (Museum of Oil), established to promote the culture of andaluz products: olive oil in… More →
Things to see
Vélez de Benaudalla offers visitors an interesting historical heritage; with buildings such as the Iglesia de Nuestra Señora del Rosario, the Jardín y Huerto Nazarí and the Torreón. The church was designed by Ventura Rodríguez, one of the best Spanish architects of his time, following the neoclassical style, in the 18th century. The Jardín Nazarí, known to residents as "el pequeño Generalife", after the Alhambra's garden , dates from the 15th century and features, as well as beautiful gardens, some with geometric designs, a palatial building which was restored in the 18th century. The Torreón is a construction from the end of the 15th century, which is perched on a rocky outcrop that dominates the village centre. The village council currently uses it as an exhibition centre.
Museo de Aceite - oil museum
Here, visitors can not only learn about how oil is made, but also can see the wine and cheese making process before having the opportunity to try and buy your favorites. See more >
Accommodation in Vélez de Benaudalla
Book Accommodation in Vélez de Benaudalla
GASTRONOMY
Amongst the various delicacies of the veleños, desserts with Arab origins, such as pestiños (deep-fried dough topped with sugar or honey) and roscos (doughnuts covered with sugar and cinnamon) are most famous. Also well-known are fish recipes and cazuelas (casseroles), as well as those made with home-grown fruits and vegetables.
FIESTAS
The most important fiesta is that of Moros y Cristianos, which takes place in May alongside the patron saint's festival in honour of San Antonio de Padua. During this month residents also celebrate el Día de la Cruz.
DIRECTIONS
Vélez de Benaudalla is 52km from Granada city. Take the A-44 (direction Motril) and then the N-323 directly to the village centre.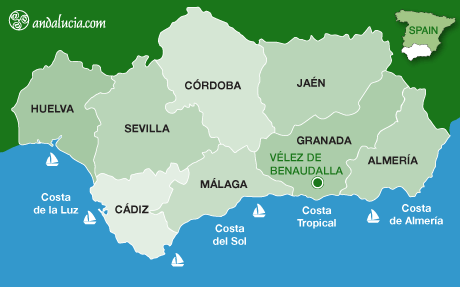 Destinations