La Herradura
By Chris Chaplow
Take me to La Herradura Hotels or Apartments page.
Enjoying a beautiful setting, this pretty village overlooks a picturesque horseshoe-shaped bay which is famous for its crystal-clear waters, sheltered beach, and excellent watersports facilities, particularly scuba-diving. It is one of the main resorts on the Costa Tropical.
Airport Transfers

Granada airport shuttles & private transportation
Book your direct and hassle-free transfer from Granada Airport to La Herradura (and La Herradura to Granada Airport) now. Choose minibus or private car with driver.

Málaga airport shuttles & private transportation
Book your direct and hassle-free transfer from Málaga Airport to La Herradura (and La Herradura to Málaga Airport) now. Choose minibus or private car with driver.
History 

The origins of La Herradura date back millennia - bronze-age settlements have been discovered in the area, but not Roman. A Visigoth rural chapel was found a little way up the River Jate which passes the town, and a Moorish settlement had a small castle near the mouth of the river - latterly the site of a Guardia Civil cuartel. The origins of the lighthouse on the Punta de la Mona headland are also Moorish and later it was an 18th-century lookout tower. Grapes were grown here in Moorish times to be made into raisins, said to be the best in the world.
The Spanish Armada sheltered at La Herradura from a storm in 1562, and when the wind changed, many ships were lost on the rocks around Punta de la Mona and Playa Berenguales. Three to five thousand sailors were lost including, as Cervantes tells us in Don Quijote, the daughter of Don Alonso de Maraíon, a Knight of Santiago. A monument to the 1562 disaster was placed on the seafront in 1990. Outside the church of San Jose there is also an inscription in ceramics with Cervantes' words.
The modern town, which numbers about 4,000, was built away from the Moorish castle. La Herradura is a subdistrict of Almuñecar and there is a minor campaign for its independence. 
.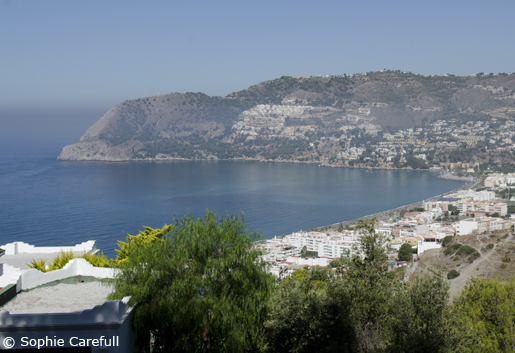 The horseshoe-like shape of the bay gives La Herradura its name.
Things to see
The village itself is a network of apartment blocks; other than the mudejar brick-style San José church, it has little architecture of note, with Plaza Nueva as recently-constructed as its name suggests. All the main attractions and shopping opportunities are on the seafront.
Seafront
The wide beach of dark sand and pebbles is two km long and perfectly enclosed by two large headlands, Punta de la Mona to the east and Cerro Gordo to the west, both with a lighthouse high on top. Running behind the beach is a seafront promenade, Paseo Andrés Segovia, and close to this you will find numerous cafes, bars and seaside shops.
Early in the morning or late in the afternoon it is a perfect place to go for a stroll and stop for a well-earned refreshment. The beach in front of Paseo Andrés Segovia has no construction except for the chiringuitos.
One interesting feature of the beach are several attractive oases of green grass and palm trees - unusual in such a setting, but most welcome.
Beach bar restaurants and chiringuitos
Naturally, this being Andalucia, the beach has several chiringuitos, and at each far end under the cliff, a chambao. When not a Malageño flamenco fusion band, whose catchy tune was used on a ubiquitous TV ad for Andalucia, a chambao is an improvised form of beach tent used to shelter from the elements - wind and sun.
At the west (or Nerja) end is Chambao de Vincente, established in 1965, and at the east (or Almuñecar) end is restaurant Chambao de Joaquin. Both are immaculately kept and perfect places for a barbequed fish dinner on the beach.
Now run by the son, Joaquin junior, the latter has a huge paella at lunchtime, cooked on a wood fire in the open air. It's worth waiting for, but a bit hectic in the summer, so either make a reservation or arrive early. They also specialise in barbequed sardines, aka espetos. Above the bar are photos and greetings from both long-term and celebrity clients including bullfighter El Cordobes; and Joselito, Jose Maria Parado and Migeul Joven, the child stars from the 1960s Spanish super-hit TV series Verano Azul, filmed in nearby Nerja, not to mention a greeting photo from King Juan Carlos and Queen Sophia.
Other chiringuitos, from west to east are; Chiringuito Bueno together with Heladeria Bueno, Chiringuito La Sardina, Chiringuito El Bambu, and Rebalaje. They all have a tropical feel as you might expect. being on the Costa Tropical.
Marina de la Este and Cerro Gordo
Follow the promenade all the way to the eastern end, towards Almuñecar, and the road climbs the headland. This was once the tortuously windy main coast road, with distinctive concrete blocks as a safety barrier. The road descends to Marina de la Este, once the prettiest marina on the whole Andalusian coast. Stop by for a drink or meal even if you are not a sailor.
Both headlands can be explored on foot, and have number of zigzag lanes to serve the houses now built there. If you are heading west to Nerja, and have time, take the old N340a road over the Cerro Gordo, rather than the 1km motorway tunnel, and at the top, stop by the cool-looking venta which lacks passing trade these days, and walk the trail to the lighthouse. Hidden away on the other side of Punta de la Mona is a naturist beach called Playa Cantarrijón.
Hotels

The town has a number of hotels, some located on the seafront - see our La Herradura Hotels page. Both La Caleta Bay and Sol Los Fenicios hotels enjoy plum position with beach views.
Especially in the summer, many visitors choose to rent an apartment - see our La Herradura apartments page.

Camping -  La Herradura has two excellent campsites, Camping La Herradura is right on the seafront.
Festivals
On 19 March San Jose is celebrated, and on 16 July the sailors' fiesta, Virgin del Carmen.
Bus
There is bus service several times a day from La Herradura to Marina del Este and Almuñeca. 
Watersports
One beach bar has been converted into a watersports centre called Dani's, with many watersport options in the summer. Another station with windsurf and dinghies for hire is 'Windsurf 1979 La Herradura'. The best dive sites are located around Punta de la Mona, the headland to the west. A number of dive centers in Marina de la Este are worth checking out as well.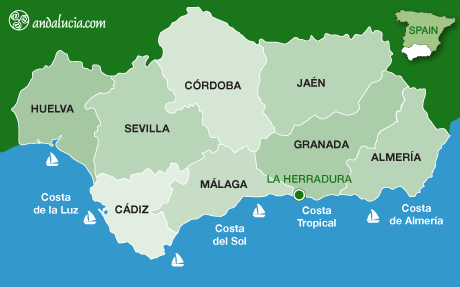 Destination tags