One of the most striking features of this Granada village is its privileged location, nestled between la Sierra de la Contraviesa and the Mediterranean Sea, making it the perfect destination for lovers of rural tourism as well as for those who prefer sun, sand and sea.
Comprised of four different areas; Sorvilán, Alfornón, Melicena and Los Yesos, the village offers a varied landscape of vineyards and subtropical plants, as well as helm oaks and cork oaks; the varied geography includes ravines, hills, rivers and beaches.
Amongst the different excursions and hiking routes to try in Sorvilán, a favourite is the Ruta de los Cortijos. Those who prefer the beach can choose between Melicena and Los Yesos.
The most important monument in Melicena is the Castillejo del Madroño, an old tower constructed in the Mozarabic era and restored by the Catholic Monarchs. In Sorvilán visitors should see the Iglesia Parroquial de San Cayetano, which was built in the 17th century over an old mosque and was known as la Iglesia de San Marcos until the 19th century.
Located in the Baja Alpujarra, Sorvilán still conserves its traditional textile industry with the manufacture of carpets, rugs and tapestries.
Gastronomy
Visitors who want to try traditional Sorvilán dishes and produce shouldn't miss its famous almonds, or the locally produced wine. Home-grown vegetables, in particular tomatoes, pumpkins, peppers, melons and watermelons, are of a very high quality, as is locally caught fish. These ingredients, among others, are used to make dishes such as migas, (a dish made with breadcrumbs, garlic, olive oil and other ingredients); gachas colorás, (a farmers' and shepherds' soup made with wheat flour, garlic, and stock coloured with saffron or paprika); cocido (a traditional stew, made here with chickpea and pumpkin); and guiso de choto (veal stew). For dessert, try the cuajado de almendras (almond curd).
Fiestas
The most important dates in the fiesta calendar include 17 January, the nocturnal festival of San Antón or Los Chiscos; 25 April, with the processions and pilgrimage in honour of San Marcos; the second Saturday in May, with the Concurso Gastronómico Guiso del Choto (a veal stew competition); in December el Día de la Rosca and in August the patron saints days for each area.
Directions
Sorvilán is 90km from Granada city. Take the A-44 (direction Armilla-Motril) and leave at exit 164 to join with the A-348. From this road join with the C-333, which leads directly to Sorvilán.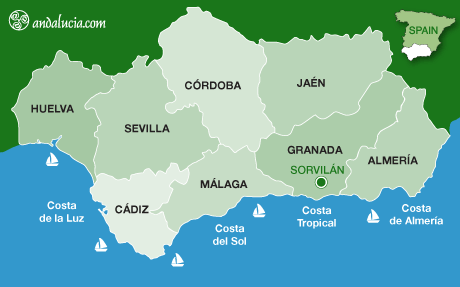 Destinations