molvízar
Take me to Molvízar Hotels page.
The village of Molvízar is especially attractive for tourists searching for a typically Spanish town which has managed to preserve its Morisco roots; it has twice won the Embellecimiento de pueblos award. Visitors can enjoy walking the narrow, winding streets dotted with white houses with balconies and windows adorned with flower baskets.
Unfortunately we don't yet have any hotels, hostels or apartments to display right now, however being but a 25 minute drive from Almuñécar & Salobreña which are larger, coastal towns, and just… More →
Things to See
In the village centre, the most important building is the Iglesia parroquial de Santa Ana. Built by order of Carlos III at the end of the 18th century, it is a fine example of neoclassical architecture. Amongst the works conserved inside, visitors will find a sculpture of the Inmaculada attributed to the school of the Spanish golden age granadino sculptor Alonso Cano.
Another well-known building in Molvízar is the Hacienda de los Jesuitas, known locally as La Compañía. A building constructed in the 17th century, the Colegio de San Pablo de la Compañía de Jesús, was located here and after the expulsion of the Jesuits it was used as a military barracks, during the War of Independence and the Spanish Civil War.
GASTRONOMY
Located at the foot of the Cerro de Jibrite and surrounded by ravines, this village offers a landscape full of vineyards, which supply one of the most important products in Molvízar's gastronomy: its wines. These are the perfect accompaniment to typical dishes of the area, such as choto con aliño (seasoned veal), migas (a dish made with breadcrumbs, garlic, olive oil and other ingredients), longaniza (a spicy pork sausage) and homemade morcilla (black pudding).
FIESTAS
The most famous festival in Molvízar are those of Moros y Cristianos. These take place with the patron saint's festival in honour of Santa Ana, on 26July. Also, on 2May, residents celebrate a wine tasting fiesta.
DIRECTIONS
Molvízar is 9km from the coastal resorts of Motril and Salobreña, and 60km from Granada city. From the provincial capital, take the A-44 (direction Motril), then join with the N-323 followed by the GR-SO-22, which takes you directly to the centre of the village.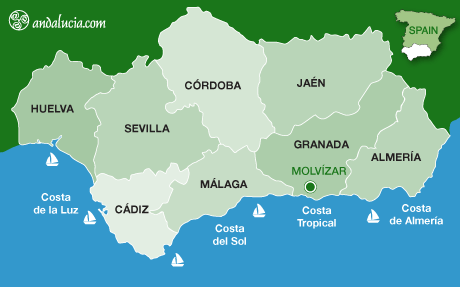 Destinations